Bruntwood SciTech receives planning approval for £60m specialist labs in Manchester Science Park's third masterplan phase
27 July 2023
-
News, Greater Manchester
By Bruntwood SciTech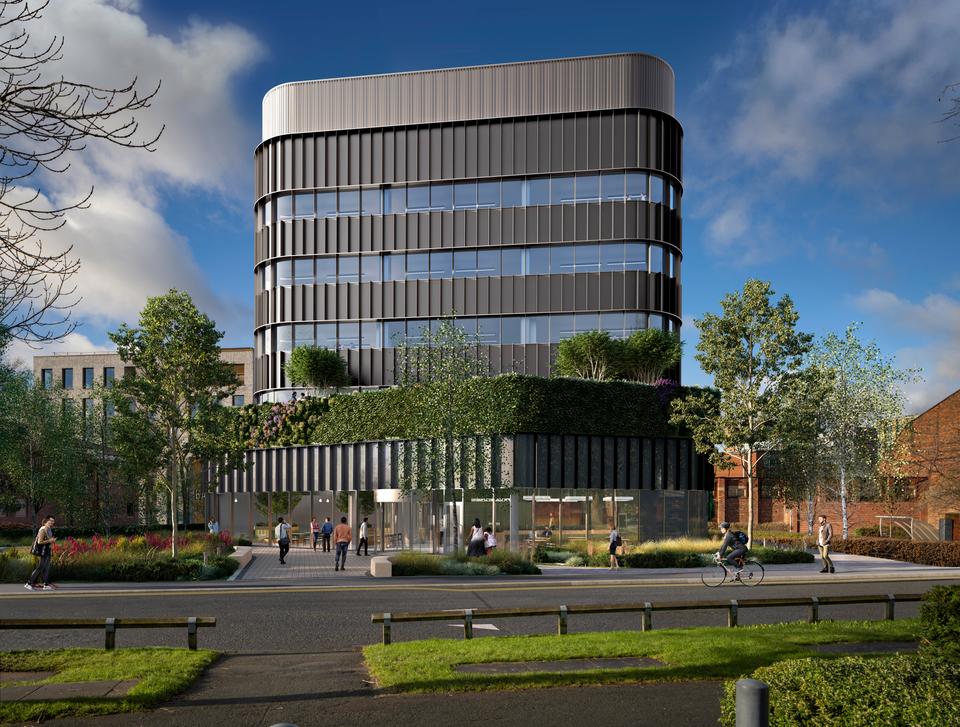 Progressive plans for the next phase of Manchester Science Park's masterplan development have today been approved by Manchester City Council. The scheme will see Bruntwood SciTech, a 50:50 joint venture between Bruntwood and Legal & General, deliver a £60m redevelopment of the Park's existing Greenheys building, bringing forward 131,000 sq ft of highly specialist world-class lab space.
The redevelopment by the UK's leading property provider dedicated to the growth of the science and technology sector forms the third phase of Bruntwood SciTech's masterplan to grow the science and technology hub to 1m sq ft. It is expected to open in Spring 2026 and follows the completion of its neighbouring building Base, which opened in July 2022 as a new tech hub for the campus. With planning approved, enabling works are due to commence later this summer.
Based in the heart of Manchester's Oxford Road Corridor innovation district, Greenheys will be transformed into a six-storey purpose-built development designed specifically for scaling life science businesses working in diagnostics, genomics, biotech and precision medicine. The development will offer a range of specialist CL2 labs with supporting office space starting from 2,500 sq ft and up to 22,000 sq ft floors. Specialist design features for life science businesses being incorporated into the building include increased vibration resistance and floor loading, the provision of piped gas distribution systems, enhanced cooling and ventilation systems, Local Exhaust Ventilation servicing to facilitate fume cupboard installations, high security access and 100GB superfast connectivity.
The planning approval follows confirmation that UK Biobank – the world's most significant source of data and biological samples for health research – will move to Greenheys, adding to and complementing the 150 pioneering, fast-growth SMEs and large market-leading businesses already based at Manchester Science Park. UK Biobank was recently awarded £127.6m from UK Research and Innovation (UKRI) to support its relocation to a purpose-built facility with larger, faster and more efficient biological sample storage. This highly specialist new building will become UK Biobank's headquarters and home to its biological samples and laboratories, as well as a latest-generation robotic freezer that will store and retrieve up to 20 million biological samples donated by UK Biobank's 500,000 volunteer participants. The relocation to Greenheys will make it quicker and easier for researchers at The University of Manchester, the NHS, and fellow businesses at the campus and in the innovation district to collaborate with UK Biobank, creating new opportunities to conduct vital research and enable new scientific discoveries that improve human health.
Alongside UK Biobank there is 62k sq ft of commercial space available for scaling life science companies to locate to Greenheys, which will expand the existing life science cluster at Manchester Science Park - one of the UK's most established and diverse life science and tech communities, spanning biotech, precision medicine, diagnostics, digital health, cyber security, digital technology, medtech and light manufacturing. The new development will also support further economic growth through the creation of over 2,500 FTE jobs during its construction, operation and in the wider economy as a result of the development.
The BREEAM Excellent development will be 100% electric and support the latest innovations in building materials and environmental technology to reduce its embodied carbon, and will achieve net zero carbon in construction and operation in its shared spaces. Greenheys will additionally feature a 'solar shading' façade which will reduce heat absorption and visual glare, and a green wall wrapping around its first two floors to increase biodiversity and improve air quality. There will also be a streamlined waste disposal approach for all businesses locating to Greenheys to reduce traffic and transport emissions.
The location of the new development is ideally placed for life science companies looking to work with The University of Manchester and UK's largest NHS Trust - Manchester University NHS Foundation Trust (MFT), being immediately adjacent to the University's main campus and within Europe's largest clinical academic campus, which is home to 50% of the city's life science businesses. Manchester Science Park is also a government-designated High Potential Opportunity Zone for Diagnostics and Early Intervention for Healthy Ageing, and a named Enterprise Zone. Businesses who locate to Greenheys will be provided by Bruntwood SciTech with direct access to R&D and funding support, world-class talent, clinical trials opportunities, their UK-wide life science support network, and the research and capabilities of The University of Manchester, Manchester Metropolitan University and MFT.
As well as benefiting from the co-location potential of the scheme, businesses will have access to a grab and go food and beverage station, shared breakout space, an internally secure cycle store with shower, changing and kit drying facilities, and the campus' wider range of facilities including a 180-person event space, roof terrace social space, cafe and pub, studio gym, multiple breakout spaces and meeting rooms – including a 24-person boardroom, and on site parking with EV charge points. Greenheys' surrounding area will also be redeveloped to provide green spaces for people to relax, socialise or host informal meetings.
Peter Crowther, property director at Bruntwood SciTech, said: "We are pleased to have had approval on our plans for the redevelopment of Greenheys which will see it become one of the most advanced and specialist life science spaces in the UK. With UK Biobank already announced to move to the new hub, we know this will be a big draw for scaling life science businesses who are keen to be located in the same building and access opportunities to work together with both them and the neighbouring researchers at The University of Manchester. The new Greenheys will build on the North West's world-leading cluster of clinical, academic and commercial assets and we look forward to commencing with our enabling works later this summer and construction early next year."
Bruntwood SciTech's continued investment into Manchester Science Park as part of its masterplan signals its long term commitment to developing specialist ecosystems to support the growth of the UK science and tech sector, and the creation of over 40,000 high value jobs over the next 15 years.
Manchester Science Park is part of Bruntwood SciTech's network of innovation districts across the UK and 500+ specialist sector business community based across 11 campuses, five of those being in Greater Manchester and Cheshire; Citylabs, Circle Square and ID Manchester in addition to Manchester Science Park within the city's innovation district, and Alderley Park. Other campuses are located in Birmingham, Leeds, Liverpool, Glasgow and Cambridge.

A local team has been appointed to work with Bruntwood SciTech on the redevelopment of Greenheys, consisting of BDP Architects, planning consultancy from Deloitte, cost consultancy from Walker Sime, DW Consulting for Structures and Civils, and Silcock Leedham for MEP.