Why The Transformation of Heritage Buildings is Key to Sustainable Office Design
24 May 2023
-
Blog,
By Bruntwood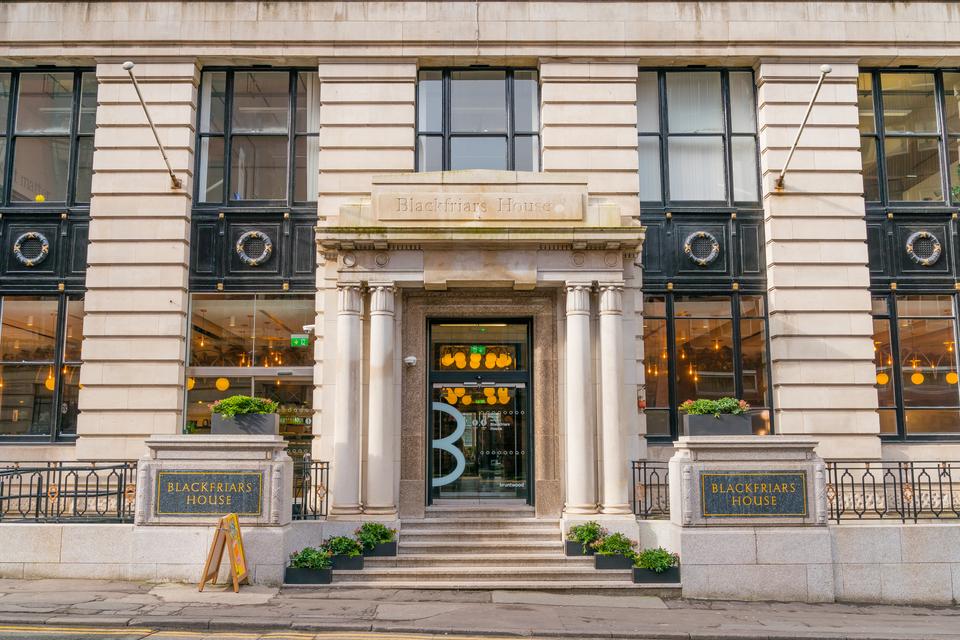 The skylines of the UK's biggest cities are constantly evolving. Nowhere is this more apparent than in Manchester, which has undergone huge changes. 
Listed by Skyscrapercenter.com as the 'second tallest city in the UK' and the 13th tallest in Europe, Manchester's skyline is remarkably different to how it looked even five years ago, and building work shows no sign of slowing.
Naturally, the eye-catching and rapid expansion of the UK's major cities has raised plenty of questions: from a purely aesthetic perspective, there are people who argue that cities are losing their identity. More importantly, there are big concerns about how eco-friendly all of this regeneration work is. 
At Bruntwood, we're all about creating thriving cities and developing a sustainable future, and this is reflected in everything we do. Our approach has always been to restore and rejuvenate existing buildings where possible rather than knocking them down and starting from scratch.
How do we achieve sustainable office design that preserves the character of heritage buildings? Let us explain…
Restoring 'Heritage Buildings' 
Around 21% of England's domestic building stock pre-dates 1919, according to Historic England. 
Retrofitting old structures - whether residential or commercial properties - and bringing them in line with 21st Century needs can be challenging, but it's a process that Bruntwood thrives on. Take Blackfriars House for instance. Undergoing a multi-million pound refit in 2020, this serviced office and coworking location provides a blueprint for how to successfully blend old and new. 
The characterful stone building was first erected in 1923. 100 years later, the facility hosts some of the most contemporary, cutting-edge workspace you'll find anywhere, as well as a podcast studio and highly popular rooftop bar and restaurant. Touches like the 1920s-themed library provide a subtle nod to the building's origins.
What Are The Fundamentals of 'Modern Office Design'? 
Of course, 100-year-old buildings were not designed to encapsulate the kind of amenities that we often take for granted nowadays. In modern offices, we expect to see features such as air conditioning, double-glazed windows and plentiful access to powerpoints. 
Whilst updating older buildings to feature the comforts of modern life, Bruntwood at the same time is working towards a net zero carbon target across its operations. It's not always an easy balance to strike. Taking steps such as incorporating plants into the building to absorb CO2 and convert it into oxygen, using energy efficiently and incorporating smart technology to monitor energy usage, evaluating the insulation in the buildings and taking action to upgrade if necessary and more, we can update these older buildings to make them better suited for a modern world. 
External plant walls - which can be seen across a host of Bruntwood buildings such as Bloc - are particularly effective and have a big impact on the environment. They can improve air quality in the local area and increase biodiversity at the same time. 
The Challenges of Retrofitting Old Buildings 
In the UK, buildings are the third largest carbon-emitting sector, so taking steps to tackle their impact is massively important. Recently, Bruntwood's Sustainability Director Alex Edwards and Head of Building Performance Etienne Humphries have joined UKGBC's latest Task Group to drive progress in making the UK's commercial buildings fit for a sustainable future, and help our industry's pathway to net zero.
As of now, the UK's buildings are not on track to meet the 2050 net zero targets, meaning it is a vital time to take action and make our infrastructure more sustainable. Although newer buildings are being constructed with this in mind, retrofitting older buildings to also meet the same standards is pivotal if these targets are to be met. Research shows that demolishing historic buildings to replace them with new ones can result in even more carbon emissions. New evidence published by Historic England tells us that we can reduce the carbon emissions of existing buildings by over 60% by 2050 through refurbishment and retrofit. 
Retrofitting older buildings does come with its own set of challenges, though. Missing or incomplete documentation, dated systems, old equipment and facilities all present difficulties whilst trying to update these buildings to a modern standard. 
"Upgrading the fabric of a heritage building, such as the walls and floors, is absolutely essential to achieving energy reduction targets, but these changes are technically difficult, costly and can meet resistance from conservationists as they're often part of the building's special architectural and historic interest. If we can get past that, then fabric upgrades can pave the way for other sustainable solutions - such as the replacement of gas boilers with heat pumps, and allow us to bring our heritage buildings up to future standards." Alex Edwards, Sustainability Director, Bruntwood.
Future Proofing Office Design
In a post-pandemic world, the future of office design looks a little different. A report from the British Council for Offices (BCO) reveals that new offices going forward should have 10-12m² of space per person, to account for the rise in people working flexibly and hot-desking when in the office. 
Increased space per person, rather than per desk, helps common workplace issues such as over-crowding and noise pollution. Through this, employee wellbeing and comfort is improved. At Bruntwood, all of our buildings are designed with our customers' needs in mind, ensuring that workspaces are spacious and that breakout areas and communal spaces are commonplace. 
Naturally, some heritage buildings are easier to adapt than others due to how they are configured. How workspaces will look in 10, 50 or 100 years time is difficult to predict, but the more we can future proof office design, the better. The UKGBC, estimates that 80% of buildings that exist today will still be in use in 2050, so brand new buildings under construction right now will need to adapt in the future.
With this in mind, 17 energy assessments were carried out across a variety of Bruntwood buildings - a cross-section that represented our whole portfolio of buildings. This has given us a great understanding of our buildings and what is needed to future proof them. By preparing ahead of time and knowing what needs to be done to each building type, the process of retrofitting will become less challenging. 
"We future proof our buildings by adopting a 'be lean, be mean, be green' philosophy. This essentially means that we're focused on updating the fabric of our buildings (be lean) and generating renewable energy to power them (be green). Importantly, we're implementing efficient ways of monitoring and evaluating our buildings' performance because you can't manage what you can't measure (be mean)." Alex Edwards, Sustainability Director, Bruntwood.