Why 'pay as you go' workspaces are in demand
21 September 2023
-
Blog,
By Bruntwood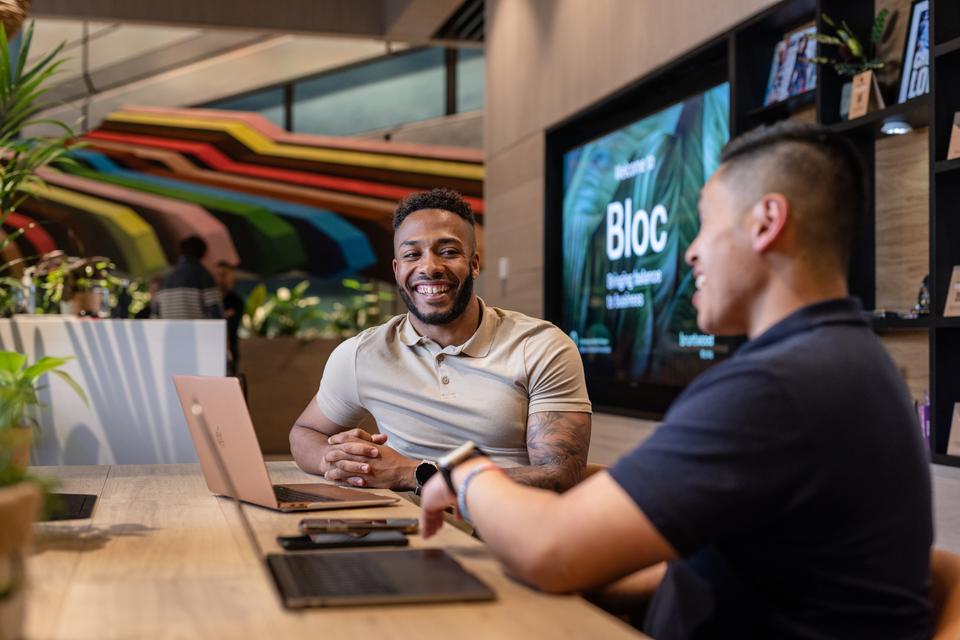 Since the pandemic, the world has seen a boom in flexible working. Now, 44% of UK workers report that they work from home or in a hybrid working system. As this way of working continues to be popular, 'pay as you go' workspaces are very much en vogue. 
This type of workspace appeals to freelancers in particular. In June 2023, there were around 4.3 million self-employed workers in the UK, compared to 3.2 million in 2000. A flexible office space allows workers to have more of a routine, getting out of their home and into a more focused environment that is beneficial for wellbeing and productivity. 
Pay as you go offices allow companies or freelance workers to pick and choose when they want a professional space to work in, giving workers all of the benefits of an office space, without the need to commit to long-term contracts. 
The benefits of 'Pay as You Go' workspace
As the working world evolves, more companies and workers are realising the potential benefits of opting for a pay as you go space. Here's a list of the key advantages of this style of working: 
Flexibility

Pay as you go offices present a much more flexible approach to professional workspaces. Workers are allowed to rent a space hourly, daily or weekly, depending on their needs. A new start-up might need a space to establish themselves, and by opting for a flexible office, they give themselves room to grow in the near-future, not limiting themselves to one space which they will eventually outgrow. This presents a great opportunity for new businesses to scale up or down as they see fit, without any serious commitments or financial risks.
These working spaces also offer a number of facilities that could be of use to you as a company. You may want access to meeting rooms, or an events space, or an office with a gym. Pay as you go spaces come with a number of offerings like these.
Cost-effectiveness
Ultra-modern flexible workspaces come fully furnished and equipped to work, and there's no need to commit to the space on a long-term basis. This allows workers to rent a space and get to work immediately, without any extra costs. 
Bruntwood's pay as you go services start as low as £3 an hour for lounge access and £5 an hour for desk access, with a full day rate for desk access only costing £25. This means you can work in a modern, professional environment that suits your needs for as long as you want, for an affordable price. 
Community
Flexible working spaces will often house many different workers from different professions, which creates a great, varied community of professionals under one roof. By working in a shared space, there are great opportunities for social interaction, collaboration, networking and inspiration from other professionals. 
The community aspect will also improve your visibility as a company or worker; by networking with other professionals in these spaces, you have the opportunity to improve your own business. That could be by meeting the right freelancer who is open to partnering with you, or finding potential customers or investors. 
Spaces like this also have hot desking, meaning there is a sense of freedom in the office. Hot desking makes it much easier to meet other professionals and network. 
Here whenever you need them
It is good to know that pay as you go offices are available whenever you may need them. You may find yourself in a situation where your home or regular office environment is inappropriate to work in. Your Wi-Fi may be down or you may be getting some house work done - whatever reason it may be, if you are unable to work at home, the flexible nature of these workspaces means you never have to worry about finding a place to work. 
What type of person suits a Pay As You Go office?
As mentioned, pay as you go spaces will be of particular interest to freelance workers. These independent, self-employed workers will not have their own office space to work in, which makes a flexible work environment very appealing. These workspaces don't require long-term commitments, so freelancers are able to move from space to space to find the perfect spot that suits their needs. Due to freelancers being self-employed and most likely working alone, flexible offices also present a great opportunity to vary your routine and break up your working week. 
These spaces are suitable for full-time employees in a hybrid working situation too. If they desire a new place to work for an afternoon, or face a long commute to their usual office, then they may opt to work in a flexible office sometimes. At Bruntwood, we're seeing a lot of people following the 'Work Near Home' trend. Rather than heading into the city centre every day, workers are setting up in some of our state-of-the-art facilities in the suburbs. 
By the same token, there's always strong demand for locations like 111 Piccadilly, which is right next door to Manchester's main railway station. Many people will book a desk for an hour or so before catching a train to another major city. It's the perfect place to apply the finishing touches to reports or pitch documents ahead of an important meeting elsewhere (you don't want to be relying on the train Wi-Fi!)
Whilst freelancers are definitely the primary users of these spaces, all types of workers can find a flexible office that suits them if they desire. 
How to book a Pay As You Go office
It's as simple as choosing the space and location that you want and picking the time period you need it for. There is no need for long-term commitments, meaning you can try different spaces to find the right fit. You can book PAYG office space here.