How to Combat UK Lab Shortages
19 May 2023
-
Blog,
By Bruntwood SciTech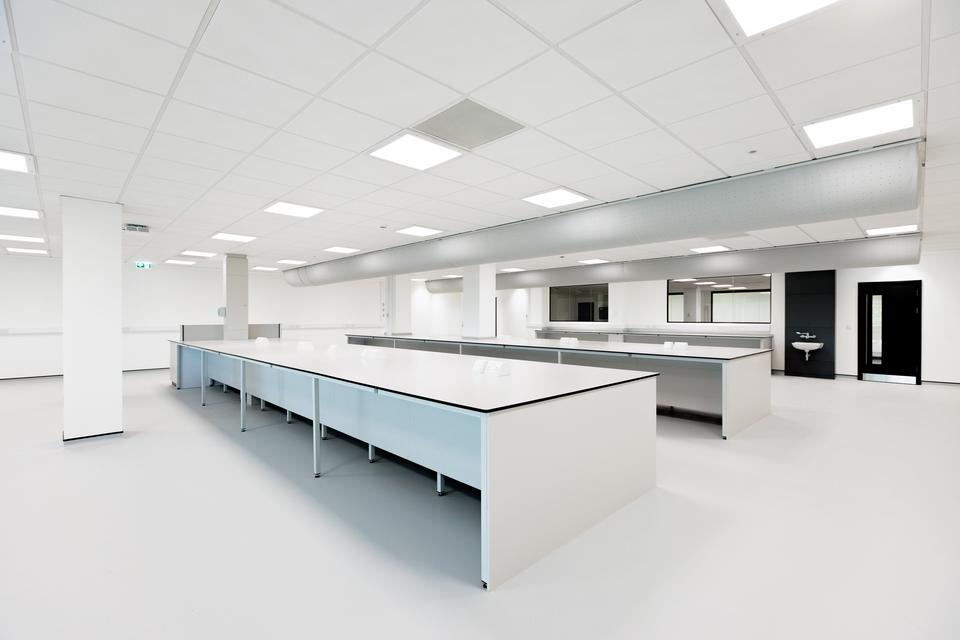 The UK has been paving the way as a leading light in the international Life Sciences space and with good reason, with its life science sector heralded as the largest in Europe. The Government assessed the UK's competitiveness across several metrics in a report released last year and found that in terms of access to talent and inward foreign direct investment (FDI), the UK is among the best in the world.
To support the UK's bid to truly become a global 'science superpower', a  number of recent initiatives and roadmaps developed by the Department for Science, Innovation and Technology have been launched to enable the country to think more globally and collaborate more effectively with the world's leading economies, as well as increasing investment in its own R&D. Examples include a renewed science and technology agreement with Japan, £103m in government funding distributed to UK science and research facilities to invest in world-class infrastructure and facilitate further scientific breakthroughs, and the blueprint for Pioneer - a long-term scheme to support research and innovation in the UK if association to the Horizon Europe scheme is not possible - all of which constitute a positive step forward for the UK economy.
The sector had an annual turnover of £94.2 billion in 2021, a 9% increase from the £86.4 billion raised in turnover in 2020. Many experts believe these eye-watering figures are just a starting point - there's a huge amount of room to grow. 
However, as discussed by Bruntwood SciTech's Director of Life Sciences, Dr Kath Mackay, in her latest article with Forbes, in order for the UK to become the 'science superpower' the Government intends it to be then notable gaps in the domestic ecosystem powering the sector still need to be addressed. Such considerations include supporting a domestic alternative to the EU's flagship R&D programme, Horizon. The release of the blueprint for Pioneer is a positive one, but as Kath states: "Successful science needs certainty, and there is nothing more certain than the collaborative benefits that the programme [Horizon] brings." Talk of more investment into 'the next genomics' and emerging tech like AI, as well as more funding and accelerator programmes across key regional cities is also supportive of the government's commitments, but there needs to be swift action to enable these initiatives to make their desired impact. 
Nevertheless, one of the most critically important obstacles to overcome if the UK is to reach its full potential is the current significant dearth of readily available, highly specialist lab spaces. 
What is the scale of the problem?
The majority of studies on lab shortage in the UK have focused on the current lack of availability in the Golden Triangle. For example, a study by Bidwells (cited by Financial Times in July 2022) showed that demand for lab space is far outweighing supply in areas such as Oxford and Cambridge, with availability close to zero in June 2022 after demand rose by almost a quarter in the first half of the year. In an article published in February this year, Bidwells reported that the high demand for laboratory space continues, exceeding two million square feet at the end of 2022; with lab demand now three times the level recorded before the pandemic. 
However, as a property developer committed to the growth of the life science sector across the UK, Bruntwood SciTech knows first-hand that this issue isn't limited to the South of England and the 'Golden Triangle' (London, Oxford and Cambridge); it's a problem that is affecting companies up and down the country. When you consider that 85% of life science businesses in the UK are SMEs - many of which are wanting to expand at pace - it's clear that the lack of available facilities is a real factor in hindering progress.
In a market spotlight report released by Bruntwood SciTech last year, it was highlighted that much of the theoretically available floor space that could be viewed as potential hubs for science and technology occupiers is poor quality and not fit-for-purpose, due to being built originally as retail, commercial or leased office space; therefore reiterating the importance of the pipeline of new, purpose-built sector specialist developments for the life science sector, such as those Bruntwood SciTech is building across Greater Manchester, Cheshire, Cambridge and Birmingham. You can discover more about these new facilities below.  
Why is there a shortage of accessible access?
It's difficult to tie the shortage of available lab space to one reason - there are many variables in play. It's arguable that the UK is a victim of its own success, with a strong talent pipeline and R&D opportunities stemming from the world-leading academic institutes across the country, a powerful partnership between industry, academia and NHS, and a flexible and pro-innovation regulatory environment. 
Another factor is cost, expertise and usability of space. Life science real estate is a growing industry in the UK, and one Bruntwood SciTech is on the front foot of. However, transforming empty spaces into chemistry or biology labs and research centres can be costly, resource extensive and requires in-depth knowledge and expertise in order to meet the specific user requirements of the sector - particularly in comparison to if the unit were to be used for offices or retail.
As the number of life science businesses increases, so does the race to develop the future-proofed facilities to house them. But there's also a tendency to speak in terms of headline numbers alone when discussing lab shortages, when the companies and the offices and 'labs' that house them are a broad church and are rarely one in the same. From genomics and data to cell and gene therapy to pharma product development, life science businesses across the industry require purpose-built space, for example manufacturing facilities, highly specialised and secure chemistry laboratories, infection control, distribution capabilities etc. 
The businesses within the Bruntwood SciTech network, many of which are at the forefront of innovation and developing pioneering treatments, therapies and new systems to improve healthcare, demand a significant level of building and development expertise in order to build facilities that meet their bespoke needs and the specialist infrastructure required. They also require space that supports them as they scale, enabling them to invest in their infrastructure and their growing team with ease. Bruntwood SciTech is on-hand to support customers as they grow into larger labs and offices, or look to develop their own laboratory spaces bespoke to their individual operational requirements.
Accessibility and location is also an increasingly important consideration for growing businesses, more specifically as companies of all sizes look to recruit and retain top emerging talent. This is why Bruntwood SciTech diversified its lab space offering.
On the one hand, Alderley Park in Cheshire is home to a large cluster of global life sciences heavyweights that benefit from the growing number specialist science services on-site, such as open access, NMR and a Cytiva Technology lab, as well as waste disposal, glass washing, scientific logistics and shipping and more. Meanwhile, campuses within city centre locations are strategically located next to universities and hospitals, making them appealing to talented graduates and businesses seeking to collaborate with leading academics and clinical researchers. The Citylabs hub in Manchester based within the largest NHS Trust in the UK, future Greenheys development in Manchester within one of the UK's most well established science and tech communities, and the upcoming Birmingham Health Innovation Campus - the only dedicated Life Science Opportunity Zone in the Midlands, are good examples of this.
For now, the demand for all types of laboratory space continues to increase at pace, particularly when it comes to the need for specialist chemistry labs and medicines manufacturing facilities.
What's the solution?
Unfortunately, there is no quick fix to address the shortage of lab space. A long-term strategy balanced by commitment from both the Government and the private sector is required to redress the balance. As discussed previously, cost is an instrumental factor, with further considerations needed into areas such as security, HVAC systems, backup generators, waste systems, logistics and more, as well as regulatory requirements. A focus from the Government should be on working with developers to incentivise more investment in this area. 
Specialist developers such as Bruntwood SciTech are racing ahead to build space, and be at the forefront of this drive to ensure the high quality, purpose-built space the country's life sciences businesses need to grow, scale and innovate is readily-available. Many of these developments already underway are being speculatively built rather than requiring agreements in a certain volume of space from businesses before triggering building them, so much is Bruntwood SciTech's commitment to supporting the growth and demand from the life science sector.
Where Bruntwood SciTech fits in
Powering the growth of life science businesses from inception to global success comes with a responsibility to provide initial support at their earliest stages. This support can range from affordable solutions to lab space and providing flexible contracts, to connecting customers with the partners and businesses that could take their idea further, faster, or helping them to access additional funding, some of which Bruntwood SciTech have themselves invested into such as the GMC Life Sciences Fund by Praetura and Northern Gritstone. 
As a further example, cost for lab space hire can be the biggest overhead for many start-ups. Bruntwood SciTech aims to make lab hire affordable across its portfolio of spaces, with opportunities for startups to establish themselves using open access labs to begin with, before investing in their own space. Added value is also provided with the opportunity to join established and growing ecosystems of leading science and technology businesses, as well as dedicated business support and world-class amenity - thereby making it easier to attract talent, source funding and scale. 
Bruntwood SciTech is currently developing a number of sites designed for new, scaling or large businesses looking to establish themselves in a growing ecosystem of science and technology companies. For example, new, state-of-the-art laboratory and office space was recently launched at Alderley Park's Mereside campus, and a future 200,000 sq ft of new development has recently received planning consent; all of which is set to provide a huge boom to business in the North of England. 
Meanwhile, No.1 BHIC is scheduled to complete at Birmingham Health Innovation Campus later this year. The development is set to become a world leading health technologies hub, attracting businesses working in medtech, precision medicine, diagnostics and digital healthcare. The location of this site is key and will foster collaboration with the likes of the University of Birmingham and some of Birmingham's largest clinical institutions such as University Hospitals QEH Campus, BioHub Birmingham and Birmingham Women's and Children's NHS Foundation Trust. 
Similarly in Manchester, Citylabs 4.0 will be formed of 125,000 sq ft of office and lab space; part of the Citylabs diagnostics, precision medicine and health innovation cluster, located within the UK's largest NHS Trust. The recently announced redevelopment of Greenheys will also provide new highly specialist lab space for diagnostics, genomics, biotech and precision medicine businesses across Manchester. Companies of all sizes based across the two sites will benefit from faster access to R&D, talent and the NHS than anywhere else in the UK. 
Want to hear more about Bruntwood SciTech's newest lab facilities? Get in touch here.