Blackfriars: 100 years of heritage
11 May 2023
-
Blog,
By Bruntwood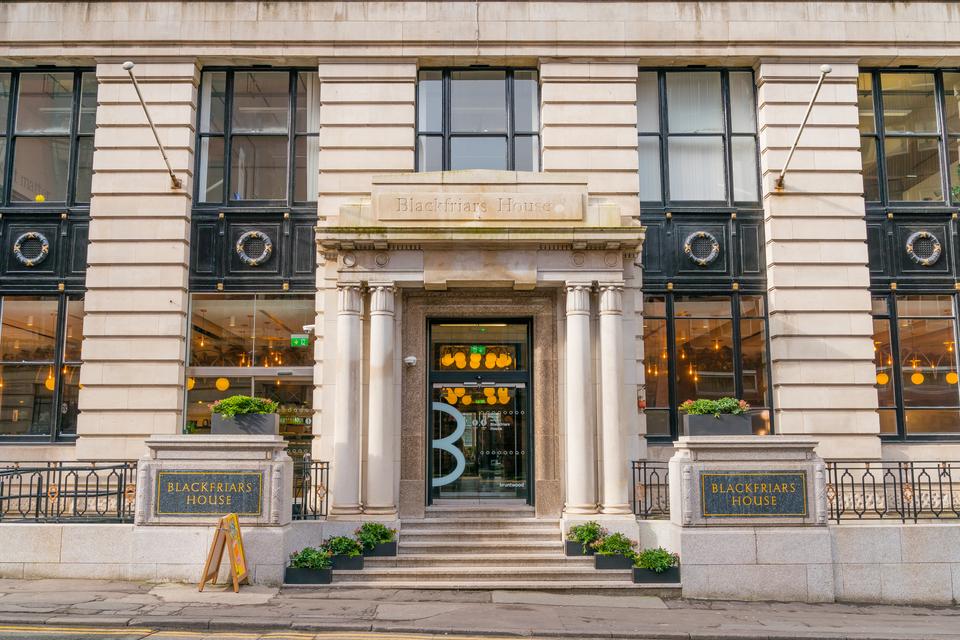 2023 marks the hundredth anniversary of Blackfriars House. In an exclusive piece for our blog page, Ryden's Andrew Richardson, the man who acquired Blackfriars for the late Mike Oglesby in the 1980s, recalls the evolution of the building and Mike's pioneering approach to the Manchester property market.
I came to Manchester in 1986 after spending five years training in Liverpool; in fact, I started work a week after the Toxteth riots in '81. So, at that time, the property market in Liverpool wasn't great, but it wasn't great in Manchester either. There was no dynamic office market in either of those cities and both places needed investment. The office market that did exist was made up of investors buying buildings with giant floorplates, which they could let out to huge corporate occupiers like Price Waterhouse (now PwC), who would take large chunks of space in one go.
There was nothing disrupting the market, so rents didn't budge for years from about five pounds per square foot!
There was also no residential market in the city centre and the retail picture was much, much smaller than today. 
But I was lucky. I joined W.H. Robinson who, along with Dunlop Heywood, dominated the commercial property market in Manchester at the time. Any building that was up for sale — we were selling it. For me, in my first job in investment, it was great. I was working with the biggest firms, with a close knit group of industry contacts and we knew the state of play at every turn because it was a much smaller market, and one in which we were all entrenched. But nevertheless, the market was small.
Then I met Mike Oglesby. 
What was unique about Mike was that he could see the potential in Manchester almost before anyone else could, but he also knew how to carry that vision through, and his background in construction afforded him the practical understanding of how to make spaces work. 
I remember showing him around Blackfriars when I was a very enthusiastic young investment surveyor with no idea at all about his background in the industry. Back in 1986, Blackfriars was quite a dark and dingy building in what was very much a fringe area of the city. Plus, this was a time when people wanted to invest in modern buildings with suspended ceilings. It was all about image and what was fashionable. As an older building, Blackfriars wasn't seen as an attractive investment prospect for 99% of businesses operating at the time.
So I was trying to sell a vision by talking about the views and the 'desirable riverside location', all those clichés! But Mike wasn't impressed by that at all. He just gave me a kind of sideways glance and said, "Andrew, I know the building intimately." So, at that point, I didn't say another word! With his understanding of buildings, his attention to detail went a lot deeper than anything I could tell him. He wanted to know about the heating systems, the electrics, the lifts, and how to bring light into the space. Basically, he wanted to see how he could make the building work as a commercial proposition.
Mike was absolutely visionary because he could see, through past experience and instinct, that this was a good time to invest in buildings, and a good time to invest in Manchester. And he was right — within 2 years, the property market in the city had been totally transformed.
By 1988/89, Manchester was the place to invest. In fact, it so happened that those close knit industry relationships I was thriving on two years previously grew more distant, purely because the market was flooded with other investors, particularly from London. For the same reason, I didn't sell directly to Mike much after that time either.
Yet even in the midst of the boom he remained one step ahead. Whereas the majority of the new investors were, by and large, still looking at buildings as huge floors for large lettings, Mike was exploring how to split these floors down and bring smaller office suites to the market. This meant a wider variety of businesses could settle in the city centre. And, because of Mike's investment into heritage buildings like Blackfriars, there was a broader variety of space available. Rents were no longer stagnating at five or six pounds, but were steadily climbing, bringing more revenue into the local economy.
In the mid-eighties, it was hard, if not impossible, to envisage the future developments that have sprung up in Manchester over the years. Barbirolli Square, Deansgate Locks, Spinningfields — none of that existed then. And it was also impossible to envisage the Blackfriars of today based on the building as it was when I acquired it for Mike. When Andrew Cooke showed me around again recently, I couldn't believe my eyes! There was no way anyone could have foreseen a restaurant on the roof (no one had roof terraces 30-odd years ago), or a café on the ground floor, next to an auditorium and podcast room!
So, as a result of Mike's mission to disrupt and create a new proposition within a stalling property market, Blackfriars has re-emerged as a unique and highly desirable office space that blends old and new with a huge range of amenities. That, for me, typifies the commercial property market at its best and it's enormously satisfying to see that evolution.
It's also satisfying to note that, however much the market grows, relationships are still a driving force for making things happen. While it's true that those early days of everybody knowing everybody else are long gone, it's impossible to erase the human element of the industry. This came full circle for me when my assistant Ian Whittaker, through his friendship with Andrew Cooke, helped to foster Ryden's relationship with Bruntwood for the purchase of Met Tower by Bruntwood SciTech.
And of course, the human factor that Bruntwood builds into its customer proposition is also a key aspect of what sets the business apart in the industry. That personal element within Bruntwood's customer experience is something that Mike definitely had the vision for from the beginning. It's intertwined with Bruntwood's approach to redevelopment. Everything they do is for the benefit of the customer. That's what keeps people interested and engaged, and it's one of the reasons why heritage buildings like Blackfriars can continue to be reinvented, and remain as relevant to the workforce of today as they were thirty years ago or a hundred years ago.
Andrew Richardson has over 40 years of experience in commercial investment property, having held senior positions at firms such as Knight Frank, CBRE and Lambert Smith Hampton. He has been with Ryden since 2017 and now oversees a team providing Investment & Building Consultancy advice.