Tatton Perk celebrates move to permanent site at Booths Park
14 June 2022
-
News, Cheshire
By Bruntwood Works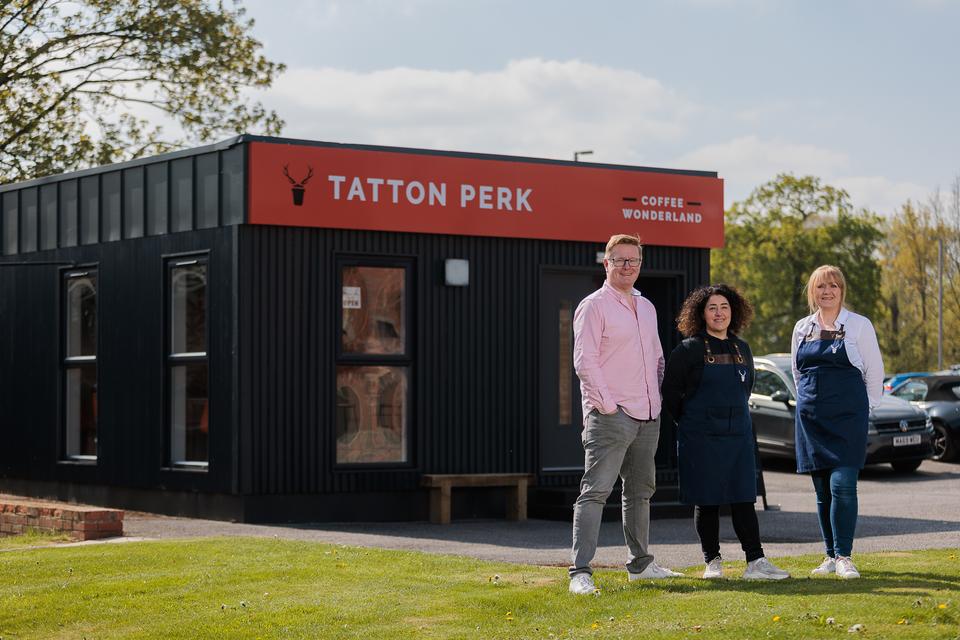 Speciality coffee provider Tatton Perk is celebrating three years at Bruntwood Works' Booths Park with a move to a permanent coffee shop on the site. Firm favourites with the Booths Park community, the company has gone from strength to strength since owner and local resident Mark Lee-Kilgariff launched three years ago in a bright orange vintage 1976 Peugeot J7 imported from rural France. 
Previous to launching Tatton Perk, Mark had a successful 17 year career as a civil servant and started the business in 2018. He and the van had just become a fixture at Booths Park before the pandemic hit. After lockdown restrictions were eased, the business was welcomed back by loyal followers on site and has now moved to a permanent building, complementing their two other branches in the area. 
Set in 220 acres of lush green parkland, Bruntwood's Booths Park is a sprawling country estate on the outskirts of Knutsford. You could be forgiven for thinking that Booths Park was home to a luxurious spa rather than a thriving, contemporary workforce across eight buildings. There's also a studio gym, showers, changing facilities and wellbeing programme that all Bruntwood workspace customers can enjoy. The site itself is open to the public, with dog walkers and ramblers alike enjoying the estate's beautiful open spaces.
To celebrate the move, Tatton Perk has launched a new food menu, with an emphasis on locally grown produce, alongside a new range of fruit coolers and frappes on their way for summer. The summer menu sits alongside the established coffee menu that uses coffee beans sourced from Atkinsons in Lancaster that have earned Tatton Perk their no.1 rating in Cheshire for coffee on TripAdvisor, with an award winning range of hot chocolate and loose leaf teas also available. The business is also minimising its environmental impact with the use of compostable cups and all coffee grinds going to local allotments.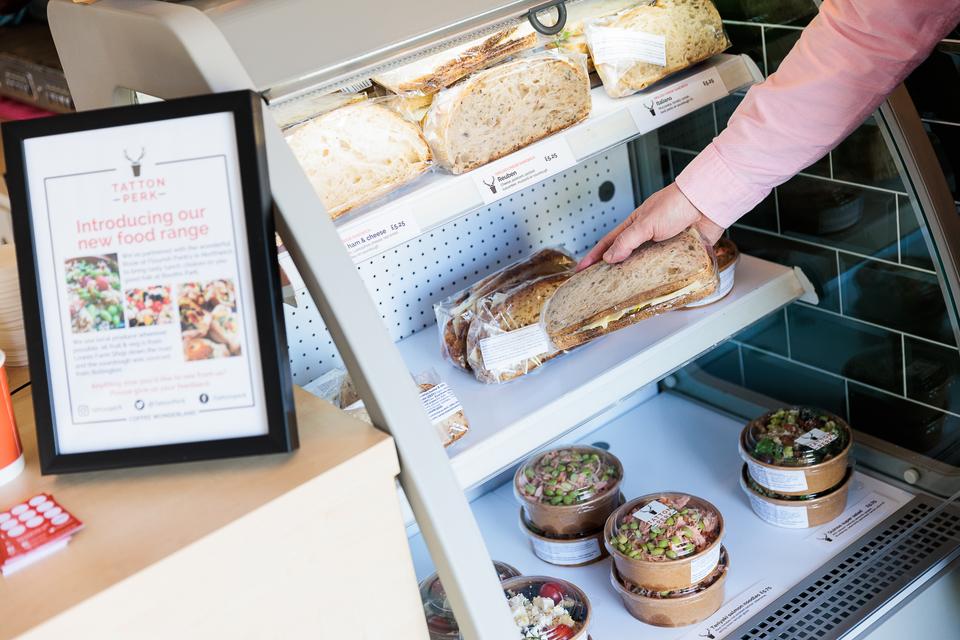 Rated No.1 in Cheshire for coffee on TripAdvisor, Tatton Perk has launched a new food menu at Booths Park
In response to customer demand, a new range of breakfast butties have also been introduced including bacon, sausage or avocado & hummus on sourdough. The food menu includes a selection of grilled sourdough sandwiches and salads, all sourced from local bakers, farm shops, dairies and growers in partnership with Flourish Pantry from Northwich. Even the tray bakes are made a one minute walk from the new shop at Booths Park, at the farm at the bottom of the hill. The team can also now provide catering for breakfast meetings, lunchtime buffets or afternoon tea.
Commentating on the opening, Mark said: "Our three unique attributes are quality, regionality and support for other small businesses and they are certainly on offer at Tatton Perk on Booths Park. The hot drinks and the amazing new food menu are testament to the quality we have become renowned for and why customers come back and visit us time and time again. We are delighted that we can support local suppliers who have worked with us every step of the way to help us achieve our third permanent coffee shop. We'd like to say a thank you to all our customers at Booths Park here. They've stuck with us when we were operating from the van and we're so pleased to see so many familiar faces now inside the shop. Big thanks to Bruntwood too who have supported our growth ambitions over the years.
"We work hard to stand above the high street offerings and this is why we're no.1 in Cheshire for coffee on Trip Advisor and have won Travellers' Choice Awards in 2020 and 2021 (placing us in the top 10% of destinations worldwide). It takes knowledge, skill and time to pull properly balanced espresso and achieve that amazingly rich and creamy texture in the milk. Our manager Luisa at Booths Park started making coffee as a child back in Sicily and her years of experience show in every cup."
Charlotte Wild, Head of Retail & Leisure at Bruntwood Works, added: "It's a pleasure to see Mark and his team move into the shop and expand their offering. Tatton Perk is a great example of how well collaborations between local businesses can work. Mark has stayed true to his ethos of working with local suppliers to produce a great tasting menu. It's been a delight to work with Mark and his team and we know they will go from strength to strength. I'm sure all regular Booths Park goers and workspace customers are delighted to see them in a permanent home on the estate, joining Philpotts in providing our customers with a range of lunch options at Booths Park."
Tatton Perk is dog friendly and is open five days a week, 8am - 4pm.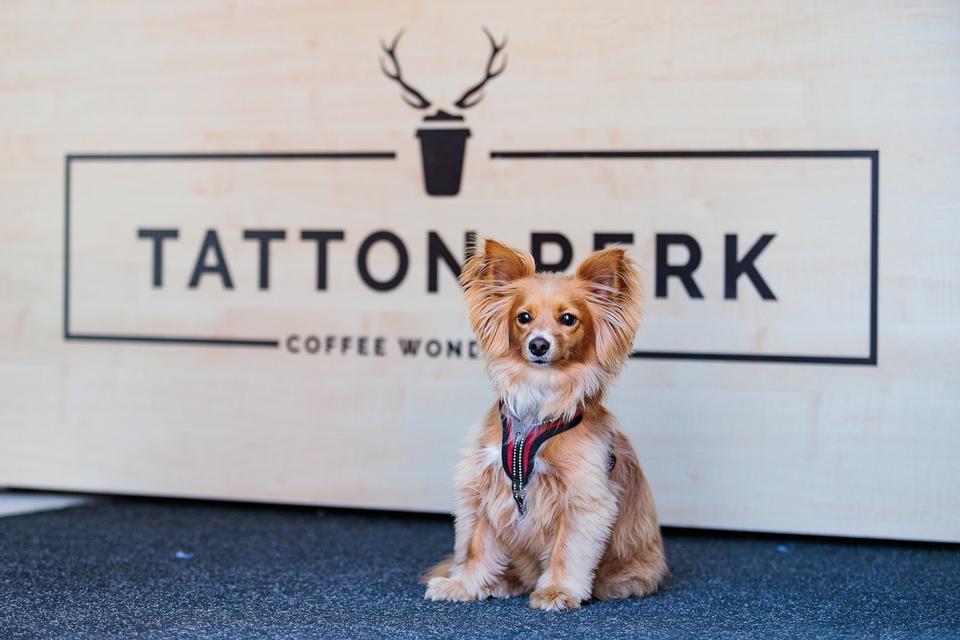 Booths Park and Tatton Perk are both dog friendly