Share your thoughts on the future of Mill Gate shopping centre
13 July 2023
-
News,
By null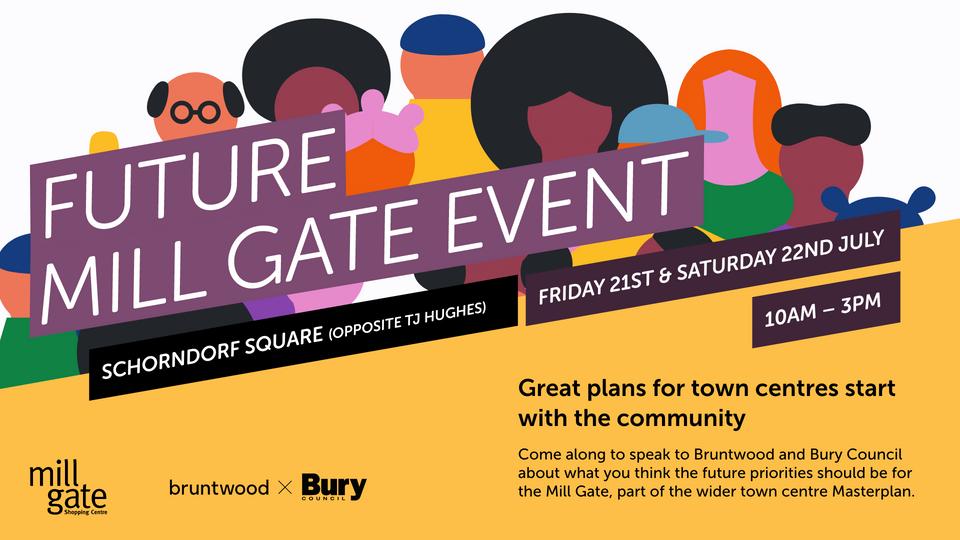 Bruntwood and Bury Council are inviting the local community from Bury and the surrounding areas to join a public engagement event to share their thoughts on the future of Mill Gate shopping centre.

The event will take place at Schorndorf Square from 10am to 3pm on Friday 21st and Saturday 22nd July, and will include children's activities, refreshments and a survey for visitor responses. For anyone unable to attend, the survey will be available online via the Mill Gate website from Friday 21st July to Friday 12th August.

In partnership with Bury Council, the town regeneration pioneer is hosting the event to garner views from local people, town centre and neighbouring businesses, and other interested parties.The event will give everyone the opportunity to meet the development team and have their say about what they want to see in their town, including; new housing, employment, retail and hospitality opportunities, transport, along with new health and education facilities.

Bruntwood and Bury Council will use the feedback to inform the development of regeneration plans for the 15 acre Mill Gate estate, which will transform the area into a vibrant and dynamic mixed-used town centre incorporating retail, leisure, hospitality and residential, with sustainability, education and wellness at its heart. It will also provide workspace, bringing further employment opportunities directly to the high street.

Chris Roberts, chief development officer at Bruntwood, said: "We're committed to revitalising Bury Mill Gate and the surrounding town centre as part of our long-term partnership with Bury Council, and engaging with the local community is central to this. We want local residents, businesses and visitors to have their say on the future of the Mill Gate, and we look forward to hearing their feedback so we can help to ensure that the development meets their needs and provides a sustainable future legacy for the community."

Councillor Eamonn O'Brien, leader of Bury council, added: "Our regeneration proposals for the town centre are exciting, ambitious and are intended to help Bury adapt and evolve, and most importantly, reflect the needs of our communities. We're in the early stages of the Mill Gate development, with a formal consultation to follow late in the year, but we'd encourage as many local residents, organisations and businesses from Bury and the surrounding areas to attend and share their thoughts, so they can be included in the conversation as the plans take shape."

In 2022, Bruntwood formed a joint venture with Bury Council to acquire the Mill Gate shopping centre in Bury town centre, as part of a wider regeneration plan. The community engagement event follows on from the Council's launch of its Bury Town Centre Masterplan vision .
Bruntwood has a strong track record of town centre regeneration. Its purpose of 'creating thriving cities' recognises the need for continuous investment in the town centres that surround them to help each other succeed. The focus of Bruntwood's work around reviving town centres is ensuring social, economic and environmental sustainability and creating spaces that are dynamic, inspirational and futureproof.