Plaque unveiled for firefighter who died in the line of duty over 100 years ago
31 October 2022
-
News, Greater Manchester
By Bruntwood Works
A plaque has been unveiled at Bruntwood Works' Marsland building, honouring a Sale firefighter who died in the line of duty in 1909.
Superintendent John Johnson Hunt, aged 65, was fighting a fire at the Brooklands Hotel in Sale when a portion of the roof fell on him. He later passed away as a result of his injuries. His funeral and funeral procession were attended by "thousands" according to the Sale Guardian at the time. 
The plaque was unveiled at the site where he died, now an office building owned by Bruntwood, on Friday 24 October. A wreath was laid at Mr Hunt's grave in Brooklands Cemetery following the unveiling.
Attendees at the event included four generations of Superintendent Hunt's family, local dignitaries, civic and historical society members, emergency services and members of the Fire Brigades Union (FBU).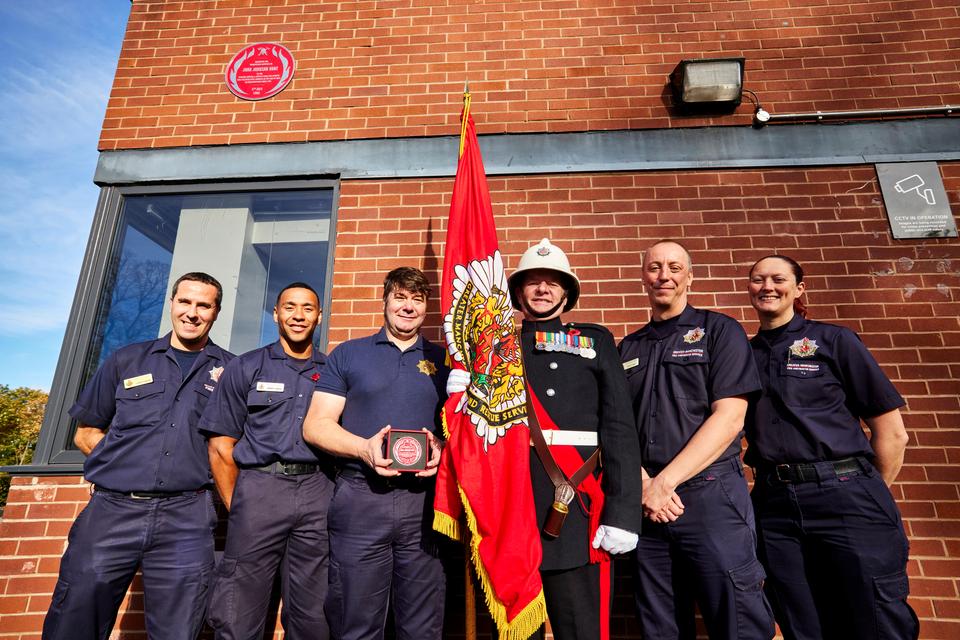 Mr Hunt was an experienced and well-respected firefighter, having had a 40-year fire service career in both Manchester and then Sale, and received several awards. He had trained several company in-house fire brigades and advised on the establishment of a new brigade.
His career was also marked by bravery and near-misses. One instance in 1885 involved him saving a fellow firefighter's life by crawling along a sixth-floor parapet in dense smoke, an incident which saw him receive several awards and have a song written for him.
The plaque dedicated to Superintendent Hunt is a Red Plaque. The FBU's Red Plaque Scheme aims to commemorate firefighters who have lost their lives in the line of duty. 
You can read more about Mr Hunt, his career and his death in a specially-produced, 20-page memorial booklet here.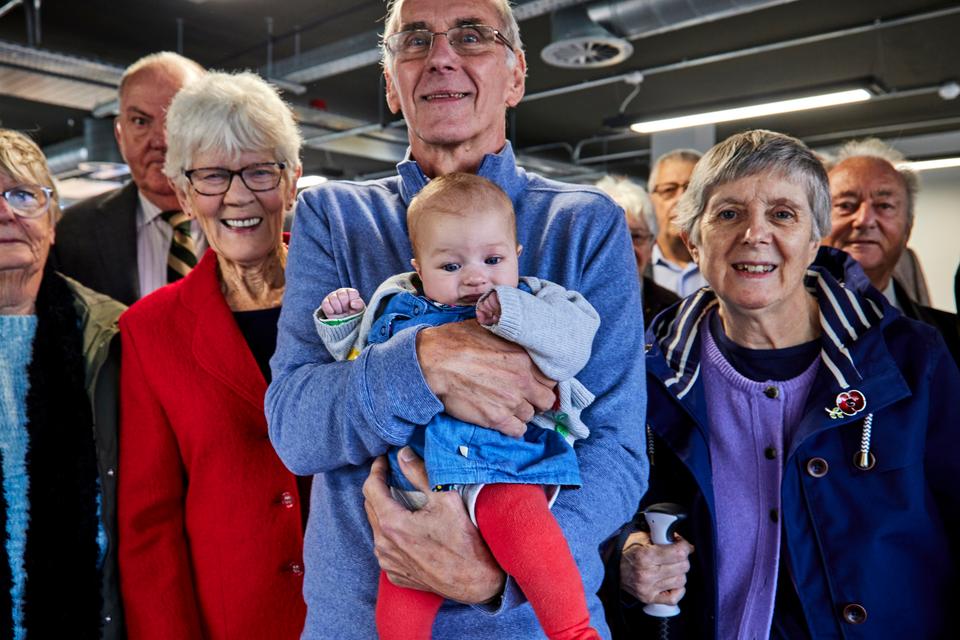 Nearly thirty members and four generations of Superintendent Hunt's family attended the unveiling
Matt Wrack, FBU general secretary, said: "No firefighter who gives their life in the line of duty will ever be forgotten, no matter how long ago they died. Making sure that every firefighter is remembered has huge importance for firefighters and their families. It helps our communities understand the huge sacrifices firefighters make and the risks they face. It helps firefighters feel connected to the long line of people who have been before them. The Fire Brigades Union is proud to play a part in remembering John Hunt."
Ed Burrows, FBU regional secretary for the North West, said: "Firefighters in Sale are committed to making sure that every one of their number who has given their life is remembered. Mr Hunt set an example to every firefighter with his bravery throughout his career. He was an extraordinarily brave man. This plaque will help ensure that the community knows what he did and what he sacrificed. It is important that history is remembered in the spaces it was lived."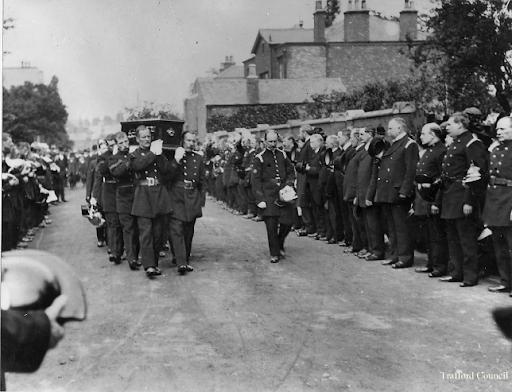 The Sale Guardian reported on 14th January 1909: "Most impressive scenes were witnessed at the funeral which took place on Wednesday afternoon at Brooklands Cemetery. Probably never in the history of Sale has so large a concourse assembled on a like occasion."
Sharon Johnson, Bruntwood head of commercial, said: "We are honoured that our Marsland building now bears a Red Plaque to commemorate the life and work of Superintendent Hunt. It's been a privilege to work with his family and the Fire Brigades Union to find out more about the historical significance of the building and the heroic events that took place there. A special thanks to retired fire officer and local resident Anthony Ciaramella for his research and dedication in bringing the story to light."
The Red Plaque Scheme is fully funded by proceeds from the weekly Firefighters 100 Lottery which has been able to create several Plaques each year since it began in 2017. Over time, as supporters of the Lottery continue to grow, more Red Plaques can be placed at the heart of communities affected by firefighter fatalities. More information on the Red Plaque Scheme can be found at: www.firefighters100lottery.co.uk.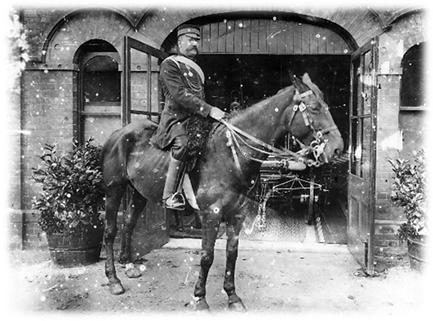 Superintendent John Johnson Hunt on horseback outside the fire station at Sale Council Offices, c.1900