Planning permission granted for The Ev0 Building, the UK's lowest carbon new build workspace
16 February 2023
-
News, Greater Manchester
By Bruntwood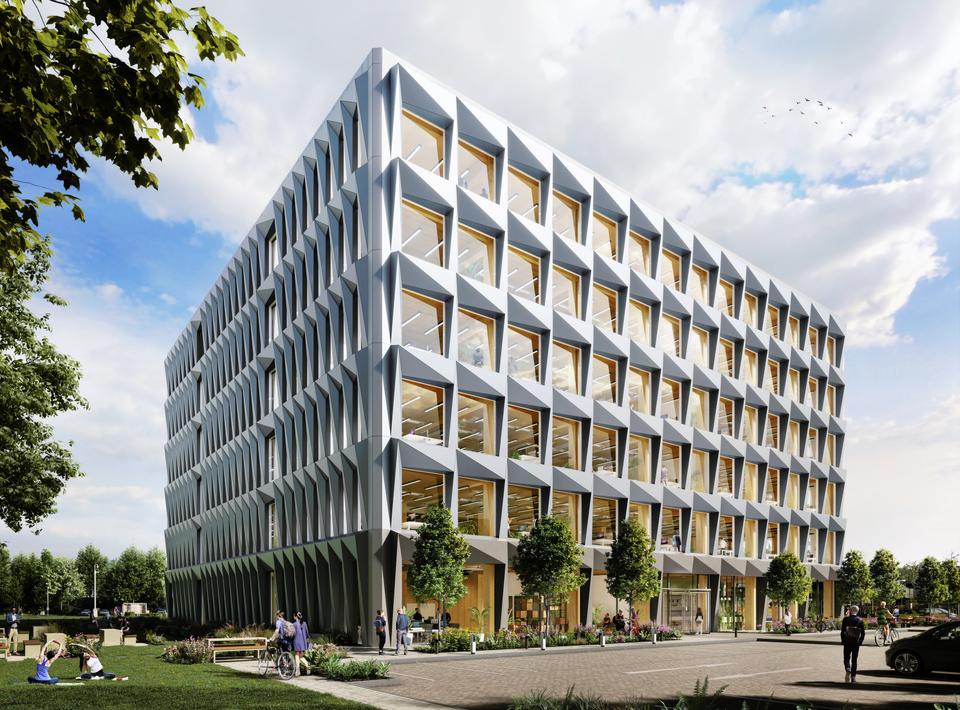 Bruntwood has today received planning approval for The Ev0 Building, the UK's lowest carbon new build workspace.
Based at Didsbury Technology Park in South Manchester, the £31m development will meet LETI 2020 design targets for upfront carbon, RIBA 2025 targets for whole life carbon and the UK Green Building Council's (UKGBC) Paris Proof operational energy use targets, making Ev0 net zero in both construction and ongoing operation.
The development's key innovative feature is its mass timber frame. The design is centred on the use of timber because of the material's ability to capture and store carbon, ensuring it is not released back into the atmosphere until the end of its lifespan. This process is known as sequestration, with Ev0's timber frame predicted to store 4,000 tonnes of carbon, the equivalent of 2,500 return flights from Manchester to New York.
Ev0 will be a fully electric development, with up to 94% of its energy requirement generated through photovoltaics located on the building's roof and car park, acting as a series of mini power plants. All energy required by the development will either be generated on site or supplied by Bruntwood's co-operative wind farm.
As part of Ev0's energy efficiency plans, the building's ground-breaking design estimates running costs at 58% lower than a traditional new build, supporting future occupiers in mitigating the risks and uncertainty of rising energy costs. Bruntwood will provide sustainability guidance to Ev0 customers to help them meet Paris Proof targets for their own operational energy use, as part of a green leasing strategy. A smart building management system will also help customers manage their daily energy use effectively.
The development has employed parametric design principles to reduce the overall carbon footprint of the building, with the facade designed to minimise solar gain and overheating on the south and westerly elevations, and maximise solar gain on the north and east elevations.
Ev0 will also feature a gym, cafe, customer lounge, cycle storage and event space, characteristic of Bruntwood's approach to the provision of excellent onsite customer amenity.
In 2018, Bruntwood became the first property company to sign up to the UKGBC's Net Zero Carbon Buildings Commitment, establishing itself as a sustainability leader within the industry. Bruntwood reaffirmed this at COP26 where it was one of the founding signatories to the World Green Building Council's revised Net Zero Carbon buildings commitment, which mandates that organisations take into account the whole life carbon impacts of any new buildings and major redevelopments in their 2030 targets. The developer also signed up to the UN-backed global campaign, Race to Zero, and in 2022 launched its Net Zero Pathway, outlining a clear strategy to fulfil its sustainability ambitions.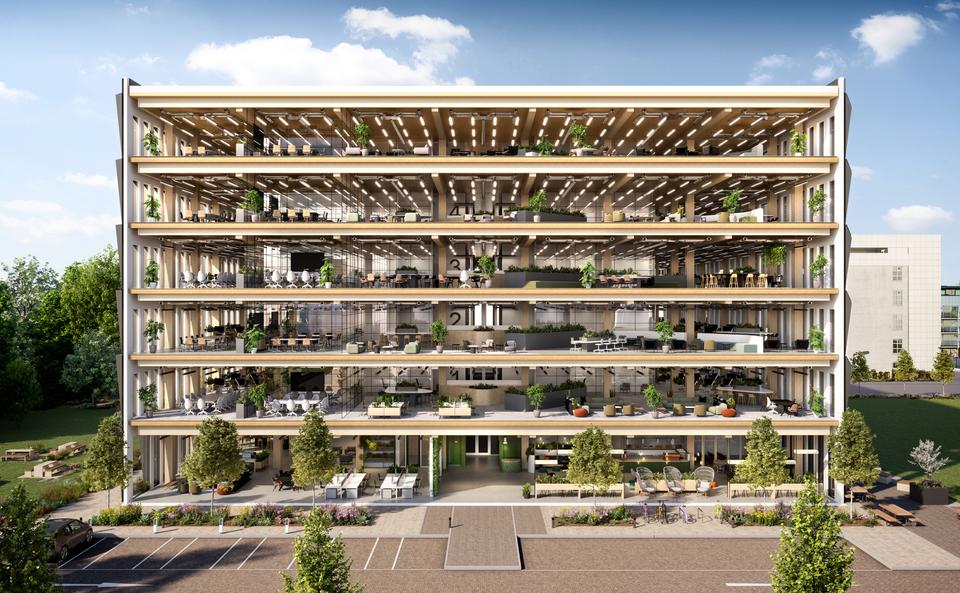 The Ev0 Building offers 82,549 sq ft of workspace across 6 floors
Andrew Butterworth, Commercial Director at Bruntwood, said: "As we continue to work towards our net zero goals, it's incredibly exciting to gain planning approval for Ev0, a development which has been a major part of our sustainability plans for a number of years. Property companies across the UK promote their developments as 'best' for various reasons, without openly releasing their supporting figures in the public domain. We have the evidence to substantiate Ev0's sustainability credentials, and are openly publishing and updating data online to support this.
"Across our business, we're taking a holistic approach to achieving net zero, putting the onus on reducing our emissions by transitioning to clean energy, improving biodiversity and green spaces, building and fitting out with sustainable or recycled materials, moving to a net zero vehicle fleet, reducing and reusing waste, and lessening water consumption, and we're actively supporting our customers, partners and suppliers to achieve similar milestones.
"As a market-leader, Ev0 will support businesses using the workspace to meet their own net zero goals and serve as a blueprint for future development. We're looking forward to getting underway and creating this new sustainably-minded community."
Ev0 will provide 82,549 sq ft of workspace over six storeys and sit between Sir William Siemens House, Spire Hospital and Bruntwood Works' Ohm Building at Didsbury Technology Park in Greater Manchester.
Bruntwood sees Ev0 as a landmark development for Manchester, supporting the city in its 2038 target for carbon neutrality and helping to cement the city's reputation as a leader in sustainable development.
The project is being supported by a number of strategic partners, including architect Sheppard Robson, MEP, structural and sustainability consultants Ramboll, planning consultants Deloitte Real Estate, fire and risk engineers OFR Consultants, quantity surveyor Turner & Townsend and project management specialists Ward Williams Associates (WWA).
Neal Allen-Burt, Partner at Sheppard Robson, said: "Ev0 presents an exciting opportunity to ask - and to answer - the key questions that must be addressed to make zero carbon a reality. The project engages with the challenges and opportunities presented by the increasing push to reach net zero carbon, with our design showing there is no "silver bullet" for achieving this and we will get there by having the dexterity to apply numerous solutions."
JLL and CBRE are the lettings agents for the building, bringing their extensive knowledge of the sustainability credentials businesses in the workspace market are looking for. Ev0 aims to attract customers who are conscious of their carbon footprint, with the developer confirming they are already speaking to a wide range of exciting potential occupiers.
Mark Garner, Associate Director at CBRE, said: "This planning approval represents a big step forward for sustainable real estate, not only for the Ev0 building but the wider regional market. We're receiving more and more requirements from occupiers looking to secure the most environmentally friendly workspace and Ev0 will more than cater for these requirements. We can't wait to see the timber frame go up, which is due to be the first of its kind in the region."
Ahead of planning being submitted a series of public consultation events were held, both virtual and in person, allowing the local community opportunity to give feedback on the proposals.
Works are targeted to start on site in autumn 2023 and complete in late 2024.
Find out more at theEv0building.co.uk.