Bruntwood Works launches pay as you go coworking passes in Manchester city centre
18 May 2021
-
News, Manchester City Centre
By Bruntwood Works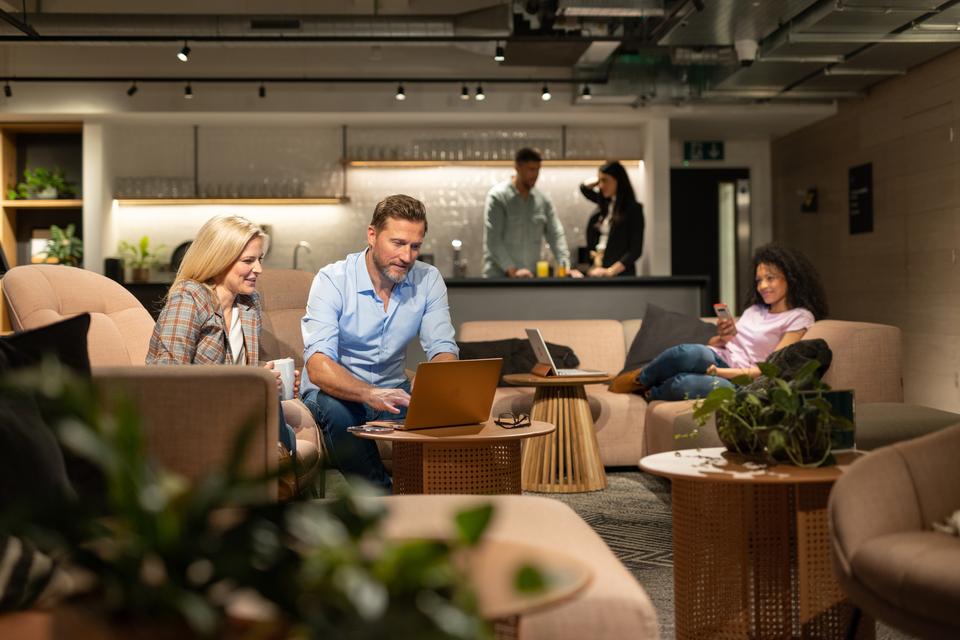 Workspace and leisure provider Bruntwood Works has launched a new 'Pay as You Go' (PAYG) service, offering day passes for its coworking spaces across Manchester city centre. The move comes in response to customers' increased appetite for flexible working experiences as many start to think about their return to the office post-lockdown.


The initiative is designed to support freelancers, small businesses, remote workers or evern larger businesses who are looking at increased flexibility as they return to work, and it provides a quality, cost-effective solution that enables them to book day passes for Bruntwood Works' portfolio of Pioneer workspaces in Manchester.


Available at Blackfriars House, Neo and Bloc, people will be able to choose from a range of coworking passes that provide access to shared lounges or a dedicated desk space. Prices start at just £3 per hour, with half-day passes costing £7.50 and a full day pass costing £12.



At Blackfriars House, PAYG customers will be able to work from the beautifully refurbished communal lounge and make use of the shared kitchen with complimentary refreshments. Alternatively, customers can grab an artisan brew and pastries from Bean's onsite coffee shop. At Neo, PAYG customers can enjoy a coworking lounge complete with a variety of design-led seating areas and a roof terrace with unique bookable meeting pods.


Bruntwood Works' latest Pioneer building Bloc will be ready to welcome PAYG customers on Tuesday 1st June. Here people will find a dynamic leisure and hospitality offering, which includes a yoga studio by FORM and café from local favourites Trove, as part of a workspace designed around powering productivity and wellbeing. There's even a sleep pod to recharge your day with a quick power nap.


Across all buildings, people will be able to book space in shared lounges, a dedicated desk space or meeting rooms via the Bruntwood Works website, or they can simply arrive in the building and book at reception. Customers will also have full access to the wide range of amenities on offer, including Wi-Fi, communal space, refreshments and facilities.


Andrew Cooke, strategic director at Bruntwood Works, said: "We designed this flexible solution after many conversations with our customers and businesses, which told us that flexibility is a top priority across the board. People are looking for easy, cost-effective ways of finding inspiring, exciting workspaces to be able to work remotely and away from home.


"Pay As You Go marks another important step to empowering people to choose the space that suits their needs. Whether it's a cosy, quiet space to promote deep concentration, or open, vibrant and collaborative lounges with the bustling backdrop of a friendly coffee shop for meetings, we have it all – along with a simple booking process to allow customers to step into a new environment.


"Flexibility and hybrid working is a priority for businesses of all sizes, from larger firms looking to support remote working, to freelancers looking for a professional setting. Many people have used lockdown as an opportunity to pursue their ambitions and set up their own businesses, so this new service also offers these entrepreneurs a flexible first rung on the ladder as they grow and look to begin using office space."


The PAYG service is the latest in a line of new products from Bruntwood Works that respond to the changing needs of businesses, as people increasingly embrace a hybrid way of working.


In 2020, Bruntwood Works launched Office Share, which provides businesses with the option to partner with a 'business buddy' and spend just two to three days in the office each. The company also already provides a wide range of flexible solutions, including co-working spaces, memberships to use their workspace and dedicated desks, as well as the range of leased and Made & Managed spaces.


Bruntwood Works' Pioneer programme has seen the developer invest £50m into existing assets to create forward-thinking workspaces designed to improve wellbeing and work through greater productivity, creativity and innovation. The company's Pioneer portfolio includes Blackfriars House, 111 Piccadilly, Neo and soon-to-be-launched Bloc, all of which are in the heart of Manchester city centre and offer customers a different and unique workspace.


To book workspace in one of Bruntwood Works' Pioneer buildings, visit https://bruntwood.co.uk/payg.