Bruntwood SciTech, Aston University and Birmingham City Council outline plans for large scale innovation cluster to supercharge Birmingham's growth.
17 May 2023
-
News, Birmingham
By Bruntwood SciTech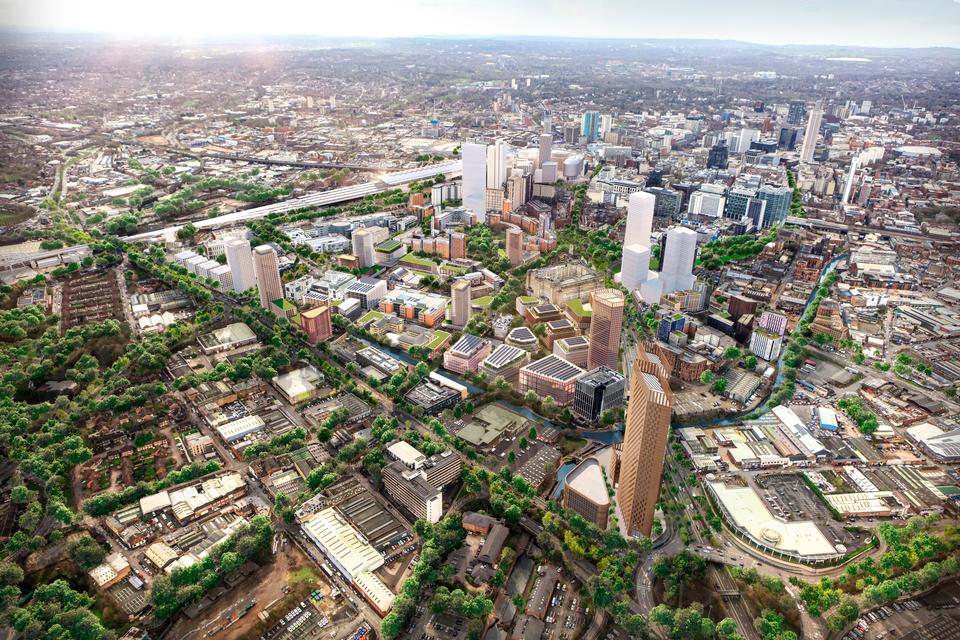 UK's leading property provider for the science, tech and innovation sector to create new Birmingham Innovation Quarter (B-IQ) in partnership with Aston University and Birmingham City Council

Triple helix partnership to bring forward plans for 20-hectare mixed-use site with the potential for additional future large scale expansion

Plans for a new world-class innovation cluster within the Birmingham Knowledge Quarter have been unveiled by Bruntwood SciTech, the UK's leading property provider dedicated to the growth of the science and technology sector, in partnership with Aston University and Birmingham City Council.
Senior leaders from the three organisations presented the proposed masterplan for the new cluster- named Birmingham Innovation Quarter (B-IQ) - for the first time today (Wednesday 17th May) at the national property and infrastructure investment conference, UKREiiF. The proposals cover 20-hectares around Aston University, including existing property assets and sites owned by the University and Birmingham City Council, such as the former Aston Science Park, and Bruntwood SciTech's Innovation Birmingham campus.
Building on the strength of Aston University's research and the 120-plus businesses already established at Innovation Birmingham, B-IQ is expected to become an internationally renowned tech and health innovation hub. 
Formal JV vehicles are expected to be established between the three parties in due course as the triple helix partnership brings forward the masterplan, which will support the University's 2030 Strategy and growth plans. Aston University's ambitious plans for growth over the next ten years will be driven by its strengths in science, technology and enterprise.
The masterplan outlines the ambition for a long-term mix of strategic development, covering commercial office space for the science and tech sector, residential (both private and student), hospitality and a number of new teaching and research facilities.
The masterplan forms part of the pledge made by Chris Oglesby, Bruntwood SciTech's Executive Chair and Bruntwood Chief Executive, at last year's Commonwealth Games to invest £1bn in the West Midlands over the next decade. The partnership will draw on Bruntwood SciTech's expertise in developing an £850m portfolio of regional innovation districts across the UK. 
In the past five years, Bruntwood SciTech - a joint venture partnership between Bruntwood and Legal & General - has already committed more than £30m of investment into Innovation Birmingham, which sits immediately adjacent to Aston University, serving as the West Midlands' largest digital and tech hub. Within that investment is Birmingham's first smart building, Enterprise Wharf, which is currently nearing completion, doubling the size of the campus adding 120,000 sq ft of state-of-the-art office space. Further improvements have also been made at the campus including an open plan kitchen and bar, events space for tech meetups and an impressive tech lounge. Bruntwood SciTech is also committed to the growth of the city's life science sector, working in a 10 year, £210m partnership with the University of Birmingham to deliver Birmingham Health Innovation Campus (BHIC), the first phase of which is due to open later this year, and is set to become a world-leading life sciences hub.
Announcing the plans on behalf of Bruntwood SciTech, Rob Valentine, Birmingham Director, said: "We're deeply passionate about the future of Birmingham and the role and potential scale  the city has in driving the growth of the UK's science and tech industries. Our history of creating, expanding and investing in innovation districts for the long-term, as we're already demonstrating at Innovation Birmingham and Birmingham Health Innovation Campus, means we're uniquely placed to support the ambitions of the city and its leadership, and the significant economic opportunity presented by the development of B-IQ. 
"We believe the spatial framework we've developed represents a watershed moment for the city. We look forward to formalising a partnership with Aston University and Birmingham City Council in support of a prosperous new cluster, focused on the core principles of location, people and innovation."
Birmingham City Council leader, Cllr Ian Ward said: "Our city has a proud history of invention, research and development and the Birmingham Innovation Quarter will build on that tradition, becoming a space where globally-recognised innovation, the brightest talent and most exciting businesses and cultural institutions come together.
 "This is an exciting new chapter as Birmingham strives to be a leading international city. It will generate significant investment, attracting the world's brightest talent, while also creating opportunities in some of the city's most deprived wards."
Professor Aleks Subic, Vice-Chancellor and Chief Executive of Aston University, said: "The strategic partnership with Bruntwood SciTech and Birmingham City Council aims to realise our bold vision within a new digital era, by creating a leading innovation cluster of international significance centred on science, technology and enterprise. Together with our partners, we have articulated a compelling regeneration strategy that has digital transformation and innovation at its heart.
"B-IQ represents an innovation ecosystem that will co-locate industry, business, entrepreneurs and start-up founders together with staff and students from academia, bringing digital cutting-edge research into a range of sectors – most critically the health tech sector. It will become the catalyst for foreign investment, for business transformation, and for skills, and in turn will create socio-economic impact across the region."
Bruntwood SciTech's commitment to the West Midlands mirrors that of its shareholder Legal & General who has also identified the region as a key opportunity to invest and support Levelling Up. ​At UKREiiF 2022, Legal & General signed a seven-year, £4bn partnership with the West Midlands Combined Authority (WMCA), the first of its type, to enhance the region as a driver of UK economic growth and 'levelling up', and to support its net-zero ambitions. This has already led to investments that positively impact local people's lives.
A local team has been commissioned to work with the three partners on the spatial framework for the masterplan, consisting of Arcadis and Howells.