Bruntwood gains planning approval for The Alberton, pioneering wellbeing-led workspace
10 November 2022
-
News, Manchester City Centre
By Bruntwood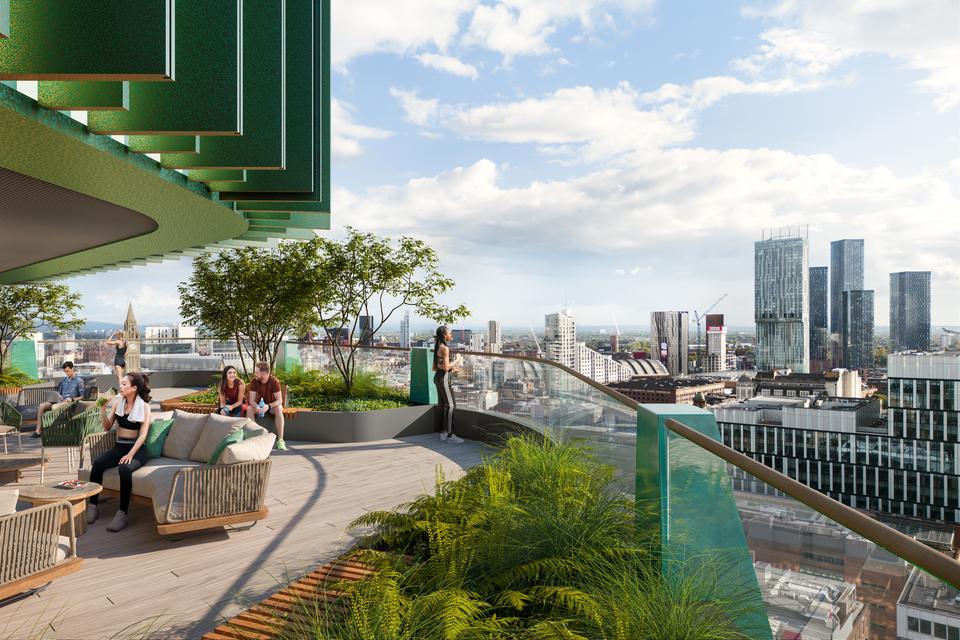 Bruntwood, one of the UK's leading commercial property companies, has today received planning approval for a revolutionary workspace and leisure destination, 'The Alberton', in Manchester city centre. The approval marks the evolution of the firm's Pioneer offering, with the building's 'workplace revolutionised' ethos embedding holistic wellbeing into daily working lives.
The current Alberton House on St. Mary's Parsonage will be replaced with a striking 18-storey office building, housing the UK's highest workspace pool and capable of competing on the world stage. The Alberton's people-centric approach represents Bruntwood's aims to attract new businesses and talent to Manchester, encouraging further inward investment by elevating the city's workspace offering.
The development will prompt considerable job creation across building management, hospitality provision and customer expansion, estimated to support 1,740 full time employees and an annual GVA contribution of £131 million.
Designed by EPR Architects and occupying the historic site of Manchester's first gas works, The Alberton represents the city's industrial past in a contemporary aesthetic, with nods to its industrial heritage throughout the building's architecture. It is set to complete towards the end of 2025, with works due to begin early next year. 
The Alberton is a key location within Manchester City Council's St. Mary's Parsonage Strategic Regeneration Framework (SRF), which also includes the redevelopment of the grade-II listed Kendal Milne building and Bruntwood's Blackfriars House and King's House, the latter of which is currently undergoing its own redevelopment.
The Alberton's focal point is its rooftop holistic wellness centre, the first of its kind in the UK office market. As well as the performance lap pool, it will also feature a hydrotherapy vitality pool, hot and cold treatment rooms, physio room, changing and shower facilities. The wellness centre has been designed with sustainability, accessibility and inclusivity in mind, ensuring that it is a welcoming space for all.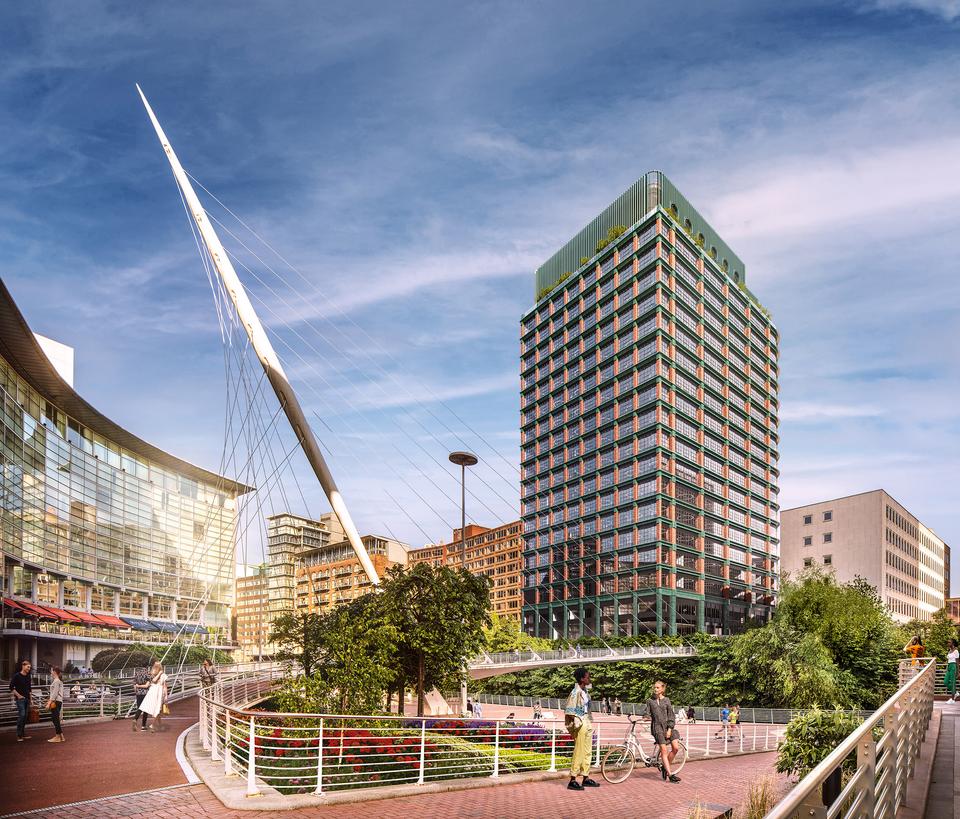 On the 17th floor, approved plans include a landscaped panoramic roof terrace with commanding views across the city, plus an events space and customer lounge. An additional food and beverage outlet on the 18th floor will serve nutritious options to complement the focus of the wellness centre and offer customers a healthier and convenient choice at work.
The Alberton's publicly accessible ground floor will create an open, welcoming connection and gateway from Salford between the Trinity Bridge walkway and St Mary's Parsonage, featuring a hospitality offering across the entire floor, including a full-service restaurant, bar and coffee shop, with seating spilling out onto a landscaped and extended public realm, providing amenity for the wider area as well as the building's customers.
The ground floor mezzanine will feature a coworking lounge and a variety of meeting rooms, with Bruntwood Works' full product stack available throughout the building. This includes Pay As You Go coworking day passes, through to Made and Managed bespoke offices, to support businesses of all sizes, from freelancers to large corporates.
Meanwhile, on the lower ground floor, customers will benefit from a fully equipped gym, a cycle hub complete with showers, changing and vanity areas, lockers, cycle repair station and cycle storage, including Brompton bike lockers, promoting active commuting. For a smooth customer experience, the cycle hub will be accessible via a dedicated lift as well as a ramped walkway.
The Alberton will operate at net zero carbon and is targeting BREEAM New Construction 2018 Excellent Rating and NABERS UK Design for Performance Agreement 5.5 star. The development will feature glazing detailing to reduce solar gain and ambient loop heating and cooling to allow for greater efficiency and zonal control. The ambient loop will even use the pool itself as a heat sink, so that all heat rejected by cooling systems elsewhere in the building is reused.Utilising principles from the circular economy, The Alberton will recycle and reuse materials and furniture where possible to ensure minimal waste, with Bruntwood committed to sending zero operational waste to landfill across its portfolio.
Bruntwood became the first UK property company to sign up to the World Green Building Council's Net Zero Carbon Buildings Commitment back in 2018. The group has since outlined clear ambitions for all areas under their control to operate at net zero carbon by 2030 and all buildings to have net zero embodied carbon by 2050.
Bruntwood Works, the workspace, retail and leisure brand of the Bruntwood Group, will develop and deliver the building, which will become the flagship in its Pioneer programme.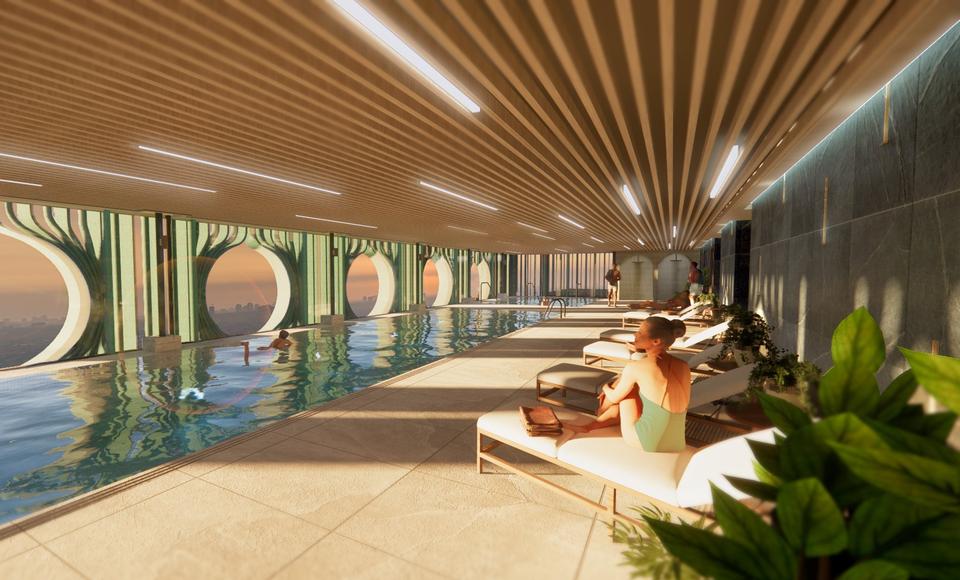 Ciara Keeling, CEO of Bruntwood Works, commented: "Gaining planning approval for The Alberton marks another landmark moment in our efforts to revolutionise the workspace, not just in Manchester but across the UK. We have always been focused on customer wellbeing and these plans launch us even further into the journey of creating workspaces that champion work/life balance. The importance of this has never been greater, as our society faces considerable challenges.
"The Alberton will provide an exemplary model of what workspaces can achieve, going further than we ever have in our Pioneer programme. This is particularly evident in the holistic wellness centre that will act as the heart of the development and offer our customers an unrivalled wellbeing experience. This level of amenity will help businesses offer staff the ultimate workspace experience, encouraging a greater return to the office whilst supporting a healthy work/life balance.
"This new space incorporates everything we have learned over the last few years of studying changes in how our customers interact with workspaces and listening to their ongoing feedback. We truly believe that we have created something that will provide a blueprint for accessible and inclusive offices."
With £200m invested to date, Bruntwood Works' Pioneer buildings are the workspaces of tomorrow, today, focused on the core principles of wellbeing, biophilia, technology, sustainability, amenity and art. Following other leading workspaces transformed as part of the programme, including Bloc in Manchester, The Plaza in Liverpool and the upcoming West Village in Leeds.
Alongside Bruntwood Works as developer, The Alberton project team comprises EPR as architect and interior designer, Planit IE as the landscape designer, Curtins as structural and civil engineer, Hilson Moran providing a range of MEP and sustainability design services, RLB as cost consultants and employers agent, Stephen Levrant as heritage consultant, and Deloitte LLP as planning consultants. The retained letting agents are CBRE and JLL. The team is further supported by a range of consultants providing professional technical advice on the development of the scheme.
Find out more at www.thealberton.co.uk