Health & Wellbeing, in Everything We Do
28 May 2023
-
Blog,
By Bruntwood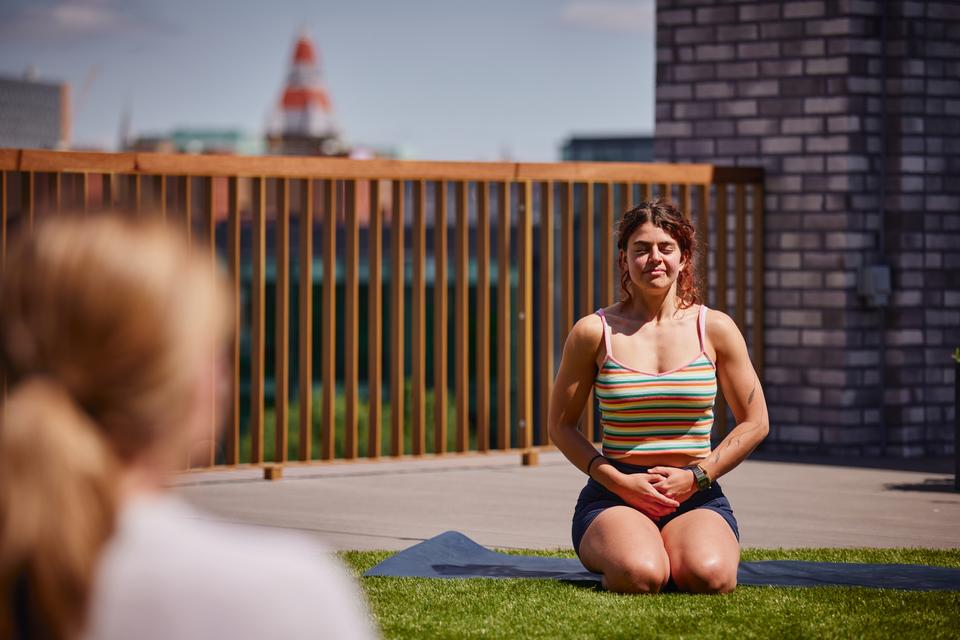 Prioritising the wellbeing both of our customers and our colleagues is so important to us as a business. This goes for the way in which we develop our buildings, the amenities within our spaces, our colleague offering and the partnerships we develop and support in our communities.
We believe that places can only truly be fair, sustainable and culturally vibrant if the health and wellbeing of their communities are nurtured and protected. But what do we mean by wellbeing?
There are many facets to this important issue so we try to take a holistic approach, recognising that a combination of factors play a part, and that wellbeing means different things to different people at different times.
Physical health, mental health, personal and professional relationships, our perspectives on money, and connecting to ourselves and the world around us; all of these things play an important role in overall wellbeing by helping people to live fulfilling and productive lives, enjoying the work that they do, engaging with the leisure and cultural facilities in their towns and cities, and making healthier lifestyle choices that are better for the planet. 
We've championed this belief consistently since our inception, but in recent years we've increasingly brought health and wellbeing to the forefront of our activities. We take a closer look below.

Our Partnership with the OCT
The Oglesby Charitable Trust (OCT) was set up by Bruntwood founder, the late Michael Oglesy and his wife Jean. The two organisations, while operationally independent, share an ethos and approach to social impact. Our partnership with the OCT supports the creation of healthier, fairer societies, with the OCT supporting cities and communities across the country. One of the key ways in which the OCT fulfils this aim is through medical research and activity relating to social and health inequality.
The health problems that the Trust encounters tend to be linked to multiple deprivation, gaps between sectors and organisations, and systemic inequalities. In 2016, the OCT was a founding funder of the Shared Health Foundation (SHF), whose aim is to reduce the impact of poverty on health in Greater Manchester. Developed and led by practical experience of health care in the least well-served communities, the SHF works at both grass roots and systems levels to identify gaps in healthcare provision and to find sustainable and effective solutions to meet that need.
In 2018, the Foundation gave rise to the Lemonade Project, which promotes positive mental health and seeks to reduce incidents of self-harm and risk-taking behaviours among young people. Anna Pratt of the SHF said, "The link with the OCT is crucial for the project, not only from a funding perspective, but also the brilliant resources, support and advice that is provided within their network."
Healthy environments for our colleagues
It's important to us to create environments built around the different needs of our people. By focusing on wellness, work-life balance and productivity, we aim to keep our colleagues feeling happy, healthy and productive through a range of services including education, support and initiatives aimed at improving overall wellbeing.  From building design and dedicated facilities, down to a range of virtual platforms — colleague wellbeing is a number one priority.
We've worked hard to develop a wellbeing strategy and programme, which addresses all aspects of wellbeing, and is supported by our 'Wellbeing Champions' — a group of colleagues who plan the delivery of events, opportunities and initiatives. This includes everything to help people stay physically and mentally well, to educate our teams and, importantly, to connect us all socially.
The world beyond…
As well as prioritising our colleagues' wellbeing, and contributing to that of our communities through our partnership work with the OCT, our ambition to create positive, lasting social impact is at the heart of our commercial decisions too. Since 2018, Bruntwood SciTech — our 50:50 joint venture with Legal & General — has established itself as the leading property provider dedicated to driving the growth of the science and technology sectors in the UK.
The advancement of these sectors not only contributes to a thriving nationwide economy, but also has implications for improved healthcare, as life science and tech businesses collaborate to deliver innovative solutions to drug discovery and disease prevention, and global gene therapies are developed through specialised facilities at Alderley Park.
Recently too, the GMC Life Sciences Fund by Praetura was created in partnership between Greater Manchester Combined Authority (GMCA), Cheshire and Warrington Local Enterprise Partnership (LEP), Bruntwood SciTech and Praetura Ventures, a northern-centric venture capital investor. Managed by Praetura and with an initial £20m dedicated, the Fund will support the growth of the health and life sciences sector in Greater Manchester, Cheshire and Warrington. 
As a result, best-in-class healthcare solutions can be developed and delivered to our communities across the UK, from right here in the North.

But what else?
These are just a few snapshots of the impact we're continuing to work towards for the improved health and wellbeing of our colleagues, customers and communities.
Keep an eye on our social media in the coming weeks, when we'll be homing in on some more of the day-to-day things we're doing to create healthy cities.