Bruntwood: Our Roots in Community
27 February 2023
-
Blog,
By Bruntwood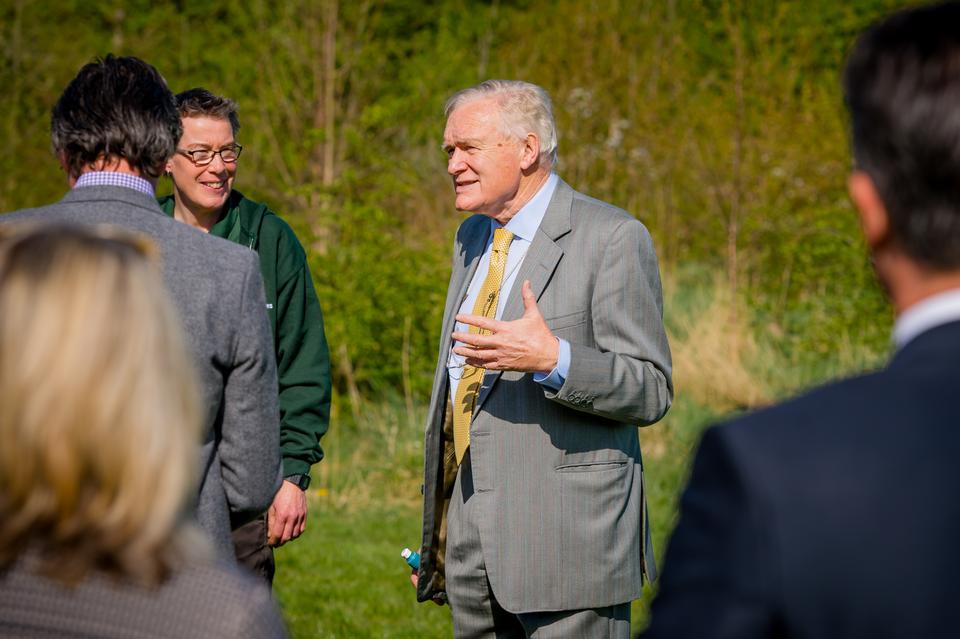 It is not just the concrete, glass and steel of our cities where we are involved, but it is working across the whole community where we see our role as being of very real importance — Michael Oglesby, Founder of Bruntwood
Those words from the late Michael Oglesby express a sentiment which has been central to the way we do business since 1976, when Bruntwood was formed. We have always recognised our moral obligation to do things differently. For us, social impact is about operating in a sustainable way that improves health, wellbeing, equality and culture, whilst boosting the local economy. In other words, having a positive impact on people and the planet. 
Many businesses are just catching up with this idea — yet it has been part of the fabric of everything we do throughout our 47-year history. That's because the legacy begun by Michael Oglesby at Bruntwood's inception is deeply rooted in the values he, and the Oglesby family, have always held.
Why does social impact matter at Bruntwood?
"Dad really, really loved people," says Chris Oglesby (CEO of Bruntwood). "He loved working with people and his background in building allowed him to recognise how our properties benefit people and places. Starting out in the poor economic circumstances of the 1970s made us appreciate the value of everything, and thanks to Dad's attitude, it's second nature to us to prioritise purpose, people and planet over profit."
More and more businesses are also putting purpose first. They are becoming more conscious of the impact they're having whilst doing business and are setting up their operations to do good. In 2018, highflying real estate company, Oxford Properties announced the first zero carbon high-rise tower, The Stack, in Canada. The same year, Netflix offered 52 weeks of parental leave to birth parents and non-birth parents (including for adopted children). And in 2020, following the pandemic, US financial services giant Wells Fargo donated $6.25m towards a global recovery programme, in addition to the 1.5% of annual revenue it already donates to nonprofits such as food banks and renewable energy projects.
How are we different?
The success of these large-scale social impact projects evidences a fundamental shift away from 'bigger, faster, cheaper' as the way business boosts the economy. Those values no longer resonate. We're now living in a new value system, dubbed the 'kindness economy' by retail expert and broadcaster, Mary Portas. 
Yet, what makes us different is our long-term commitment to the places we work in. Playing a key role in ensuring we do that right is our work alongside the Oglesby Charitable Trust (OCT). The OCT was set up by Michael, and his wife Jean, and allows Bruntwood a deeper and broader understanding of the cities we work in, and of the communities and people within them. OCT activity is funded by the Oglesby family and through profit generated by Bruntwood's success.
Kate Vokes (née Oglesby), Chair of Trustees at the OCT and Non-Executive Director at Bruntwood reflects on this: "Part of the reason why the OCT was set up by our parents was to help resolve the societal issues that ultimately have an impact on the customers, partners and suppliers that we work with, along with Bruntwood itself. The OCT's work allows us to understand the places that we're operating in more deeply and then help in the best way we can, from providing funds to offering our strategic expertise, and simply making meaningful connections across our networks. That's our formula for creating a positive, long-lasting impact on places."
Learning from the past, evolving for the future
The blend of commerce and philanthropy, of work and lifestyle, which has always been essential to our success, now defines the future of business. We'll always be evolving our approach, to ensure it has the greatest benefit to our places and their communities. But it's also important to celebrate key milestones and learn from what's gone by. 
Over the next few weeks, we'll be spotlighting some key activity across our social impact agenda, defined largely by our purpose pillars: sustainability, health & wellbeing, fair society, and cultural vibrancy. Meanwhile, you can find out more about our purpose-driven approach and long-term investment in places here.