World leading tech company picks West Village in Leeds for UK HQ
01 June 2023
-
News, Leeds
By Bruntwood Works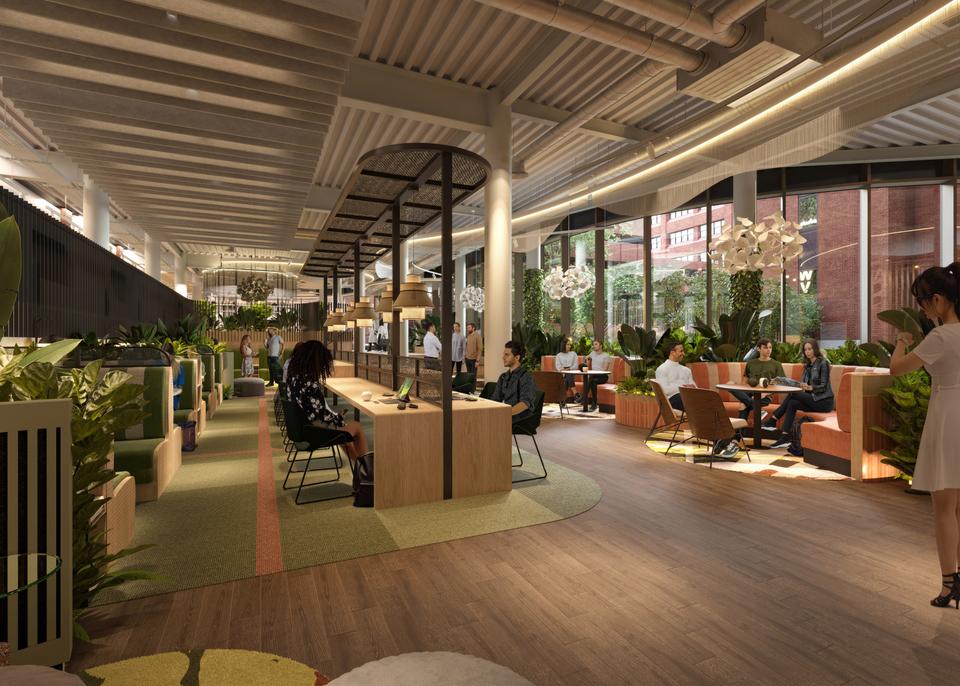 PEXA picks Leeds for new UK HQ as it continues to invest in the region
World leading tech company  picks West Village in Leeds for UK HQ as it continues to invest in the region
PEXA selects Leeds as new UK headquarters, with the city playing a strategic and integral role in its plans to transform the UK property market

Combination of strong financial services, legal and professional services sector and access to diverse talent from universities made compelling case for the decision

Following PEXA's acquisition of Leeds-based national conveyancer, Optima Legal, PEXA already has some 250 staff in the region, and is seeking to build stronger ties to the city

The company plans further growth, following close to AUS$100m already invested in the UK 
June 2023: PEXA, a world-leading technology provider, behind the world's first digital property exchange process, has today announced it has chosen West Village, Leeds, for its new UK headquarters. PEXA will collaborate with the West Yorkshire Combined Authority as it sets up its new headquarters and prepares to invest in the region and its workforce. 
West Village - developed by Bruntwood as part of the £200m Bruntwood Works Pioneer programme to create cutting-edge workspaces of the future - is a new, first-class wellbeing-focused workspace in Leeds. With the site due to open in Autumn 2023, PEXA has taken more than 8,100 sq ft at the newly transformed development, with PEXA and Optima staff expected to be working there by December 2023. PEXA chose West Village for its proximity to local transport links and its modern aesthetic, which is suited to a hybrid working environment, as well as its close links to the city's innovation community. The site will receive a custom interior fit-out to match the requirements of PEXA's UK businesses. 
PEXA have been advised and supported throughout the process by Charles Parkinson from CBRE's Advisory & Transaction Occupier team in Leeds.
PEXA Group Managing Director and Chief Executive Officer inspected the site.
"We are delighted to announce West Village as our new UK headquarters. Leeds is a key strategic location for PEXA, and its spirit of innovation and collaboration matches that of our business," he said.
Rob Valentine, Director of Yorkshire at Bruntwood Works, commented: "PEXA is a force to be reckoned with globally, and the business' decision to choose West Village for its UK headquarters is a landmark deal for the region. It just goes to show the power that forward-thinking workspaces, with sustainability and innovation at their heart, have for attracting significant investment to the region, and how they help to boost the economy and put the UK on the international stage. PEXA will be closely linked to our network of innovative businesses and disruptors here in Leeds, and we're proud to welcome the business to our Bruntwood community."
The strong financial services sector in the city, with a presence from the Bank of England, Financial Conduct Authority and UK Infrastructure Bank, along with the depth of legal and professional services firms, made a compelling case for PEXA's decision to base its headquarters in Leeds.  
PEXA will engage a local design firm to curate the office fit out with a focus on sustainable products, natural light, and greenery, with a relaxed and flexible space which will take inspiration from the city of Leeds and in keeping with PEXA's vision as a proud disrupter unlocking value in property.
Embracing PEXA's Flex First hybrid working environment, the fit out will include around 60 dedicated workstations, a library, a hackable town hall style venue, well-being reflection room, hybrid team rooms and private spaces.  "The fit-out will ensure our people can adapt the space as they choose, instilling a sense of pride in their place of work," Mr King said.PEXA launched into the UK last year, seeking to transform the UK's 150-year-old conveyancing process, enabling digital remortgage transactions to streamline the process. Digital transactions reduce the associated time, risk, and costs in the remortgage process for consumers, lenders, and conveyancers alike. PEXA also aims to expand its product offering to sale and purchase digital transaction capability.
As part of its ambitious growth plans, PEXA has already invested AUD$100m in the UK, developing a new payments scheme in conjunction with the Bank of England and registration services with His Majesty's Land Registry (HMLR). 
Following the acquisition of Optima Legal in 2022, PEXA has become a significant employer in Yorkshire, with 65% of PEXA's 380 UK employees based in Leeds and around the region. PEXA will continue to invest in the workforce in Leeds and aims to foster ties with the local universities to access the diverse pool of talent and expertise they provide. 
The company's expansion into the UK market follows its success in Australia, where it has facilitated over 15 million property transactions worth circa AUD $2 trillion.  
Mr King said he was encouraged by the warm welcome of PEXA in the UK especially in the Yorkshire region.
"The region already has a vibrant financial services and tech scene, supportive local government, and great universities. Simply put, it is the natural base from which we will grow and support our workforce around the country. We have ambitious plans to transform the UK's property market for the better, and investing in our offices, technology and people in Leeds and Yorkshire is central to executing those plans. 
"We have had tremendous support from the West Yorkshire Combined Authority, and we look forward to working with them closely as we select a site and build closer ties with the city."